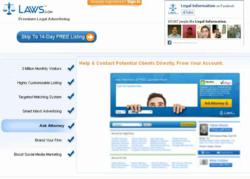 Laws.com lawyer database launched a new immigration lawyer and law firm listing.
New York, NY (PRWEB) January 04, 2013
Laws.com launched a new immigration lawyer search service. Immigration lawyer listings allow individuals in need of immigration legal service to find the immigration lawyer and immigration law firm that specializes in various immigration related issues like deportation, visa, marriage and employment. The lawyer database lists the immigration attorneys near the user's location based on zip code and provides a link to the individual attorney's profile page.
The attorney profile page lists the lawyer experience, bio and contact information of the attorney. Laws.com allows the user to contact the immigration attorney using the laws.com internal mailing service, which allows the user to send a query to the lawyer's Inbox. The profile page lists whether the lawyer offers free consulting and the law firm's website address. The Google map in the attorney profile page allows the user to easily locate the law firm's corporate office.
Laws.com allows immigration lawyers to list their legal service in the immigration database through the law firm advertisement sign up page. To add a listing to the database, immigration lawyers have to register with laws.com. The lawyer registration and listing service has two options for free sign up and paid featured listing. The free sign up allow law firms to register with laws.com and list their legal service in the lawyer database. The paid service offers maximum user reach for the law firm by listing lawyer information above the regular listing. The featured listing gets maximum exposure as it is displayed on top of the immigration lawyer listing page.
Laws.com offers information about various federal laws, state laws and legal forms. Laws.com is a online destination to find and search lawyer and law firm information. The site host number of lawyer listing in various lawyer verticals. The site boasts free legal resource online by offering various legal forms, government forms, court documents, video guides and various law guides.