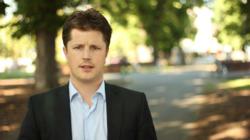 He's built an incredibly large audience online as an amateur DSLR user by
recording his experience with learning how to use the DSLR camera and publishing it online for everyone
to follow along with him on his journey
Melbourne, Au (PRWEB) January 03, 2013
The Multimedia Marketing Show with Jake Hower recently released a new podcast interview of Dave Dugdale, founder of learningdslrvideo.com, on how he built a huge online audience for his website.
"Dave is an amazing guy. He's built an incredibly large audience online as an amateur DSLR user by recording his experience with learning how to use the DSLR camera and publishing it online for everyone to follow along with him on his journey," said Jake Hower.
Dugdale started his website after stumbling upon an Apple promotional video he liked.
"I wanted to spoof it, but I didn't know why the shot looked a certain way, and I kept studying it and looking at it and I was asking on the forums," said Dugdale.
Eventually the forum conversations led him to buy his first DSLR camera and he started shooting videos with it. Then Dugdale started a website to share the knowledge he was learning along the way.
"At first I thought it was going to be more of a brain dump where I would just find a particular topic I wanted to look at. I was like, if I turn it on what does it do, if I turn it off, what does it do? Why not create an actual video of it for my own sake so I can go back and see later? That's pretty much why I started it," said Dugdale.
"You certainly created an amazing resource. I know I've spent hours on your site and your Vimeo and YouTube channels going through all the videos. Now when I'm trying to correct something with my videos, I'll just pop across to your site and bang in a few keywords into the custom search and nine times out of ten you've covered my issue," said Jake Hower.
Eventually, Dugdale's audience grew, and his website now gets around 100,000 visits a month.
"In terms of where I really see the growth, the huge amount of growth for me is by far on YouTube. That provides me with a lot of neat resources like having a relationship with one of the largest camera stores, B&H, where they just send me stuff," said Dugdale.
Jake and Dave go much more in depth about how to build a massive audience in the podcast at The Multimedia Marketing Show with Jake Hower website.
About The Multimedia Marketing Show with Jake Hower
Too many people focus on short-term "push button riches" sales strategies. The Multimedia Marketing Show's focus is on long-term sustainable solutions that build out the authority in a particular market.
Business owners who implement the strategies taught in The Multimedia Marketing Show's podcasts and videos will increase authority and build a defensible business that competitors cannot easily replicate.
Tap into the video marketing expertise at The Multimedia Marketing Show with Jake Hower.
About Jake Hower
Jake is a co-director of Pan Australian Travel. He joined his current business partner as a director in 2009. He has extensive travel industry experience, having worked in various senior positions before joining the company. Jake's role within the company has him overseeing marketing, client management and new client acquisition, with a focus on driving innovation through the entire group. Jake is a member of Entrepreneurs Organisation (EO) and is actively involved in various travel industry associations.