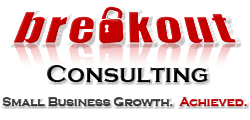 Most of your revenue is coming from your few best customers, so doesn't it make sense to have a special, targeted marketing effort to attract more like THEM?
(PRWEB) January 01, 2013
Breakout Consulting, a leading small business coaching and consulting firm based in Dearborn, MI is offering new clients a $500 discount on their Dream Client Marketing Campaign focused on attracting the most lucrative buyers in their marketplace. The customized marketing package includes all the research, creatives and marketing collateral necessary to execute an effective dream client or best buyer marketing strategy. Package price also includes coaching and guidance to ensure effective deployment of the campaign. New clients can expect to be interacting with prospective dream clients within 45 days of engaging Breakout Consulting for this service.
The promotional price of $495 is a 50% discount over the normal price and is offered to new clients only.
Additional details can be found on their website or by calling 313-757-1425.
About Breakout Consulting:
Breakout Consulting, LLC was founded in 2000 by Michael P. Berry, a seasoned business professional who has been involved at various levels of ownership and management in 23 different private and franchise brands. Coaching and consulting services focus on all aspects of business improvement including marketing, sales, profitability, growth, hiring, training, planning, policies and procedures for start-ups and small to medium sized businesses. Prospective clients are offered a complimentary initial consultation and receive a customized 12-point growth plan free of charge.