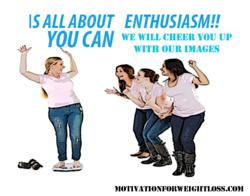 "an image can easily deliver a powerfull message in seconds"
Miami, Florida (PRWEB) January 03, 2013
The first motivational service based completely in images has been announced for an enthusiastic group of individuals involved with the weight loss community. The service will provide a series of emails with pictures and videos designed to encourage weight loss and the maintenance of a healthy lifestyle. The service will be provided on a daily basis, since consistency is vital and aims to encourage and sustain to the greatest extent possible the excitement of losing weight that people tend to feel during the initial days of the new year.
Even though new year's resolutions are frequently temporary and quickly fading in terms of the degree to which people sustain the commitment necessary to see them through, the creators of motivationforweightloss.com believe that great potential exists in the customary ritual of making such resolutions. "Our idea is to take advantage of the natural impulse to lose weight that appears cyclically and convert it into something more permanent. We imagine that many of the millions of weight loss enthusiasts (70 million as per industry statistics) are ready for that conversion; the momentum is there and only needs encouragement to be successful. With the proper motivation, a few million people every year can become serious about adopting a healthy lifestyle" declared Henry Benavides, the spokesman for the group.
"The problem is that effective motivation is expensive, and in difficult times, resolutions do not tend to be prioritized. Free motivation comes mostly in the form of words, which are good but not enough in this electronic era, when people don't have time to read long passages and are visually oriented. For these reasons, we decided to use images for our service. A picture is worth a thousand words and can easily deliver a powerful message in seconds. We wanted an upgrade in motivation and since we could not find an image-based motivational service, we created one," added Mr. Benavides.
The task at hand for the group is not easy, because obesity is becoming epidemic. For example, a recent 400 page report by the Institute of Medicine(IOM) found that 65% of American adults are overweight, and a recent Duke University study predicted that the percentage of severely obese individuals-those who are 100 pounds or more overweight- will double to 11% by 2030. Excessive weight is clinically associated with numerous illnesses such as diabetes, high blood pressure and cholesterol and clearly limits mobility and decreases the quality of life.
Mr. Benavides added, "While many see being overweight as an aesthetic problem and diet to look good, for us, it is more of a health problem. Looking good is an extra bonus. The important thing is to feel good and healthy."
The spokesman finished by calling on the weight loss community to share in the effort.
"Many dieters have wonderful photos on their personal pages that they use for their own motivation. I have seen them. Hey, come check ours out, and give us some of yours. We'll take care of the distribution. If the millions of weight loss enthusiasts share their resources, surely we will have an enormous bank of motivation."
To receive these motivational videos and pictures, sign up at the following Web page: http://www.motivationforweightloss.com