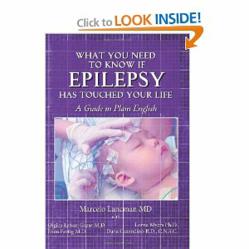 Patients with epilepsy inspire us on a daily basis. This book is for them.
New York, NY (PRWEB) January 02, 2013
Dr. Marcelo Lancman, Director of Northeast Regional Epilepsy Group and a board certified epileptologist with over 20 years of experience, commented: "We wrote What You Need to Know if Epilepsy Has Touched Your Life to provide the most current medical, psychological and lifestyle information on epilepsy in plain English. This book is part of the Northeast Regional Epilepsy Group's campaign to raise epilepsy and seizure awareness and provides education in understandable language." Collaborating authors include Dr. Evan Fertig, the NEREG Director of Research, Dr. Olgica Laban-Grant, New York Associate Director of NEREG, Dr. Lorna Myers, clinical psychologist and neuropsychologist, and Dana Casendino, registered dietician.
With almost 3 million people in the U.S. having some form of epilepsy, and one in ten adults likely to experience a seizure during their life, it is tremendously important that as many people as possible are well informed about epilepsy facts. Epilepsy medicine is a rapidly growing field that can be hard to keep up with from a patient's perspective. Presently, there are more than 20 available anti-epilepsy medications, as well as electronic treatment devices, diet therapies, and new state-of-the art diagnostic tools. This book covers these topics in a clear and understandable way as well as going over many important lifestyle issues that come up when epilepsy touches your life.
For an interview or comments, please contact: Lorna Myers, Ph.D. at lmyers(at)epilepsygroup(dot)com or 212-661-7460, extension: 5. http://www.epilepsygroup.com

Launched in 1998, NEREG is a multi-site practice in New Jersey, New York and Connecticut that offers unique services and comprehensive care to children and adults with epilepsy. NEREG provides state-of-the-art diagnostic procedures, 24/7 patient service, highly skilled and experienced practitioners, and exceptional specialty programs designed to cover a broad range of health care needs in each epilepsy patient. NEREG consists of nine board-certified epilepsy specialists with fellowship training in adult and childhood epilepsy, as well as many other highly skilled health care providers including pediatric/adult neurosurgeons, neuropsychologists, epilepsy nurse practitioners, a specially trained nutritionist and epilepsy advocates.