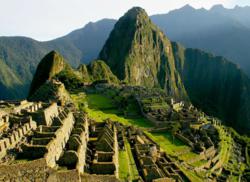 International travel by Americans was up in early 2012 and it remained strong as the year progressed.
Los Angeles, California (PRWEB) January 01, 2013
Billions of people worldwide may have breathed a collective sigh of relief when the world did not end Dec. 21st, and based on travel statistics and activity at Spirit Quest Tours, Americans are ready to get out and see the world. Bookings for spiritual travel in particular are up, with more Americans interested in travel abroad to do more than simply shop or lie on a beach.
Spirit Quest Tours begins its ambitious 2013 international tour schedule January 5th with a guided tour to Machu Picchu and other sacred sites of Peru.
"International travel by Americans was up in early 2012 and it remained strong as the year progressed. December was a very busy travel month for international tourism, and all indications are that 2013 will be a year of recovery for travel companies and international flights from the U.S.," Eavelyn says.
According to data from the U.S. Travel and Tourism industry, international travel by Americans was up in 2012 over 2011 levels. Overseas travel was up by 6.5 percent by the third quarter of 2012, with double digit percentage gains to destinations including the Middle East and Central America. International travel to Mexico and Canada was also up over 2011 levels.
"International travel by Americans is trending upward, and our company's tour and travel numbers are following suit, with the emphasis on travel for reasons beyond just vacation," Eavelyn says.
"Now that the world has not come to an end, people are asking 'Now what?' in their lives. At least that's what we're hearing from the people who are traveling with us. Our trips are designed around a larger calling -- to help people find the answers to those questions." Eavelyn says.
Data shows that Europe remains the most popular destination for Americans who are traveling overseas, with 20 percent of all U.S. tourists traveling abroad heading there. The Caribbean gets the next largest slice of the overseas pie, with nearly 11 percent of U.S. overseas travelers heading to the islands, according to the ITA Office of Travel and Tourism Industries' most recent survey.
Spirit Quest Tours has six guided international tours on its current 2013 schedule, and Eavelyn says the company is evaluating other destinations to add to their offerings.
"We're very excited about Spirit Quest Tours' upcoming trips to Peru in January and July. It's a destination that has appealed to adventure seekers and spiritual travelers for centuries, and tourists have been showing their interest in these trips for several months. Cuba is another destination that has people booking early, as new opportunities have opened up for American tourists to see the island. Eavelyn says her company will lead a trip to Cuba April 16th – 24th, which will feature an inside look at the religions, art, music and culture of the island.
Trips to Spain, Bali and Egypt are also on the Spirit Quest Tours schedule. The company says their typical travelers are not interested in wandering around on their own. They are often interested in eco-friendly tours that provide opportunities for guided tours led by local experts to spiritually connected locations.
Itineraries for the Spirit Quest Tours 2013 Travel Schedule can be found at http://www.spiritquesttours.com.