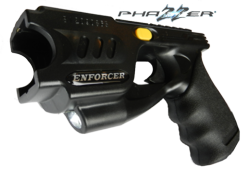 The Ultimate Choice in Self Protection and DVR Eyewear!
Omaha, NE (PRWEB) January 09, 2013
PhaZZer® Enforcer Conductive Energy Weapon
Highly Effective Less Than Lethal Option Alternative to Taser® EMDs
PhaZZer® Electronics, Inc. USA designed the Enforcer CEW to compete directly with the X26® EMD which is the preferred Taser® model of choice by most law enforcement in the USA.
PhaZZer® has implemented a "safety shut down circuit technology" in the Enforcer CEW that automatically disarms the weapon if aggregate exposure to the body exceeds 15 secon ds. Most up to date medical studies have indicated that this is the new benchmark for reasonable and necessary use of CEWs deploying into a live targets. The (Patent Pending) PhaZZer® safety shut down circuit can be overridden by the operator if he/she feels the need to use additional force by simply recycling or rearming the safety switch. This safety feature only offered in the PhaZZer® Enforcer will limit liability to the Operator, LEO, LE and/or Security Agency, creating more awareness to limit excessive force which will ultimately save lives.
Other advantages PhaZZer® Enforcer CEW offers over similar competitive products

built in high intensity 160 lumen LED flash light compared to low illumination X26® and M26® LED flash lights.
rechargeable/replaceable 7.2 Volt Lithium Ion battery system allows for approx. 3000, five second electro shock apps for the lifecycle of the battery compared to 150-200 shots per non-rechargeable Taser® DPM battery depending on function usage i.e., LED flashlight, arc test firing & deployment.
PhaZZer® Enforcer CEW program will provide a LE department or agency with budget savings of approx. 40% compared to X26®
PhaZZer® also offers non-lethal ammunition alternatives which currently have patents pending with the USPTO. All PhaZZer ammunition cartridges are universally compatible with certain Taser® EMDs including X26® and M26® and vice versa. Taser® announced that they will void product warranties if a non-Taser brand ammunition cartridge is deployed from Taser® brand EMDs while PhaZZer will not void product warranties if a non-PhaZZer ammunition cartridge is deployed from PhaZZer® brand CEWs.
For more information got to http://www.phazzerstore.com