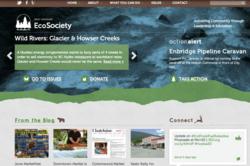 We still need to give our wild rivers lasting protection from smaller for-profit power schemes, but this is a great victory.
(PRWEB) January 16, 2013
Columbia Basin Trust Provides $40,000 Grants to EcoSociety
The downturn in economic growth means that environmental and social support groups that rely on donations are seeing fewer and smaller amounts from individuals, governments and other groups. However, the Columbia Basin Trust recognizes the immense value in EcoSociety projects. In 2013, they are providing West Kootenay EcoSociety with $40,000 in grants to support the Kokanee Creek Visitor Centre and Friends of Kootenay Lake projects. This money is most welcome and will benefit the ecosystems and the Kootenay region.
The slowdown in global economic growth over the past 5 years is a great thing for the environment, as constrained growth and development means the demand for natural resources is slightly less. In a booming economy, energy projects like Glacier / Howser Creeks Independent Power Plant or Enbridge's Northern Gateway are more likely to get a fast-track to approval. Slower economic growth gives the public and the government a bit of breathing room, to look closer at the impacts of growth and the rate of return on each and every investment. It gives environmental groups like EcoSociety more time to organize opposition and win over the public by presenting compelling arguments, and supporting facts and figures.
Howser / Glacier Creeks Independent Power Producer Project Terminated
Environmental groups like West Kootenay EcoSociety are celebrating the termination of the Glacier / Howser Creeks Power Project. This IPP would have caused serious damage to the fragile ecosystems of these creeks and the surrounding areas. David Reid, a Director of EcoSociety told The Nelson Star:
"This is a great example of how good science and a strong public voice can work together to protect our ecosystems. We still need to give our wild rivers lasting protection from smaller for-profit power schemes, but this is a great victory."
Governmental and Public Opposition to Northern Gateway Increasing
The BC government is responding to public, environmental groups and First Nation's opposition to a pipeline across British Columbia's wild north. Public opposition is up to an all time high as over 60% of the population in BC is against it according to Angus-Reid Public Opinion Poll release in November 2012. Because of the opposition, the Alberta provincial and federal governments are beginning to look at other ways to transport tar sand oils out of Alberta.
Enbridge, the developer of the Northern Gateway Pipeline removes from a map over 1000 sq KM of islands in an ad about oil tanker route safety as seen in this infographic at sumofus.org website. Through the help of the EcoSociety and other groups across the country, the public is well informed of the dangers and shortcomings of the project plan, especially the route. The public is soundly rejecting Enbridge's attempts to sway opinion on many levels.
Jumbo Valley Municipality Created
In 2012 the people of the Kootenay region of British Columbia were witness the approval of a municipality created for Jumbo Ski Resort. This 20 year fight against another ski resort will be taking centre stage. The EcoSociety is leading the charge to keep Jumbo Wild.
EcoSociety is an environmental organization based in Nelson British Columbia. It's mission to educate, organize and lead communities of the Kootenay region along a path that is more ecologically friendly and sustainable.