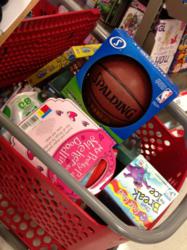 "Our goal was to help ensure that as many children as possible had a gift to open this holiday season," Chad Buckmaster, ProcessingPoint CEO.
Carlsbad, CA (PRWEB) January 02, 2013
As a leading small business service provider, ProcessingPoint, Inc. did what it could to give back to its community this holiday season. In tribute to the young lives lost in Newtown, Connecticut last month, the company chose to hold its own charity toy drive for children in the San Diego community.
On Thursday, Dec. 20, 2012, ProcessingPoint and its employees picked a local retail store and filled up their shopping carts with gifts for families in need. Every employee was given a list of families to buy for and was instructed to fill their cart as full as possible. Three non-profit charities were chosen for the gift donations: It's All About the Kids, Boys & Girls Club, and Solutions 4 Change. Food items were also purchased and donated to a local San Diego food bank.
"In the wake of the Newtown shooting, amidst all the sadness and emotion, it has been comforting and heartwarming to see the many acts of kindness from people around the world," said Chad Buckmaster, CEO of ProcessingPoint. "These generous and loving acts have touched those of us here at ProcessingPoint on a great scale, encouraging us to give back and do something more this December."
ProcessingPoint has had many success stories in recent years, but there is no greater success than having the ability to give back to the community. The company is proud to have the ability and opportunity to give to those in need.
Based in Carlsbad, CA, ProcessingPoint, Inc. is a business service provider that delivers cost-effective business-enhancement products and services. Its employee time clock solutions have helped thousands of companies grow their revenues, contain their costs, and increase their market share. From cutting-edge cloud-based time and attendance to the latest in mobile payments technology, the company strives to invest in new technology and provide services and products that save businesses time and money.
For more information on ProcessingPoint, or any of its services and solutions, call 866-694-3603 or visit http://www.processingpoint.com. For more information on uAttend web based time tracking software visit http://www.uattend.com or call 800-518-8925.