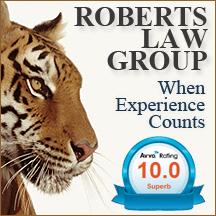 When experience counts, count on Roberts Law Group, PLLC
Raleigh, NC (PRWEB) January 01, 2013
North Carolina drunk driving defense attorney Jesse Scharff of Roberts Law Group, PLLC, successfully raised a reasonable doubt as to impairment in a DWI trial and secured a not guilty verdict, saving the client from up to six months in jail.
A traffic stop of an allegedly speeding driver headed home after a sporting event ended in an arrest for driving while impaired (DWI). The arresting officer performed several field sobriety tests after smelling the odor of alcohol on the driver, including the walk-and-turn test, a portable breath test and the Vertical Gaze Nystagmus.
According to court documents, despite the results of the barrage of field sobriety tests Attorney Jesse Scharff was able to raise reasonable doubt about whether or not the driver was impaired, resulting in a not guilty verdict. The driver missed walking heel to toe only once during the walk and turn test, had a positive reading on the portable breath test, satisfied all six clues on the Vertical Gaze Nystagmus test and had a presumptive blow of .08 on the EC/IR II (or ECIR-2).
In the face of this seemingly insurmountable evidence, Jesse Scharff was able to use his experience in the courtroom and knowledge of North Carolina law to secure a not guilty verdict. In State v. Narron, 193 N.C. App. 76 (2008), the court discussed that the"[r]esults of a chemical analysis are sufficient evidence to submit the issue of a defendant's alcohol concentration to the fact-finder" who "may find it adequate proof" of impairment. In this case, Attorney Scharff was able to refute the results of the field sobriety tests, raising reasonable doubt as to impairment and allowing the fact-finder to enter a not guilty verdict.
Rather than spend the next six months in jail, the driver was able to escape the penalties of a North Carolina DWI conviction.
At Roberts Law Group, PLLC, our criminal defense attorneys fight for the rights of the accused throughout North Carolina. With offices in Raleigh, Wilmington and Charlotte, our experienced lawyers offer a free initial consultation to anyone facing criminal charges including drunk driving, sex offenses, drug crimes, white collar crimes or other felony or misdemeanor in the North Carolina state or federal criminal justice system . When experience counts, put Roberts Law Group on your side.
For more information about Roberts Law Group, PLLC, please visit the firm's criminal defense website and criminal defense blog. Jesse Scharff is a skilled criminal attorney who defends against sex crime charges, DWI charges, assault charges and others in Wake County and the surrounding areas. To contact criminal lawyer Jesse Scharff, please contact the law firm online via our website or call 866-630-2389 for a free consultation.