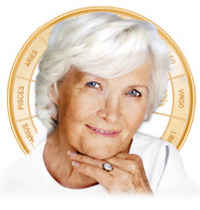 2013 brings global "spiritual awakening". Progressions involve psychological developments within the individual - transits involve developments in the life outside the individual's control. - Norah
Phoenix, AZ (PRWEB) January 03, 2013
It's 2013 and everyone is re-identifying their Solar Progression Zodiac – Leos are now Aquarius, Pisces are now Aquarius – see where your sign begins using the new 2013 astrology calendar.
Norah Guide, world-famous Clair-Astrologist – had improved her reporting techniques by using Progression Interpretation in addition to Norah's Transit Reports for each period of her readings. Norah Guide extra features are now available on seven media platforms on FaceBook, Twitter, LinkedIn, Google+, Pinterest, About.Me., and Tumblr – talking to Norah is easy.
There are numerous ways to integrate Progression interpretation as analytical transit reporting:

Minor progression - one lunar month after date of birth equals one year of life
Tertiary progression - one day after birth date equals one lunar month of life
Converse progression - one day before birth date equals one year of life,
Ascendant Arc progression - planets are moved the same distance as the secondary progressed ascendant
Symbolic Arc progression - planets are moved by degrees a year – sequence series - e.g. 3 degrees for each year
Norah makes it easy to understand what can be expected for 2013 and the best choices to make to get the desired results.
Read more previous Norah Guide users:
"Wow! This has really opened my eyes, and made me really think deeper about who I am and who I want to be. Thank you so much, I am so grateful for this guidance and insight and cant wait to change my ways. in fact I've already changed and I'm feeling in tune with what I'm thinking and find myself more aware of what's going on around me and how this all effects my self worth and more importantly my destiny. My transit guide is extremely accurate! And I've enjoyed reading it over and over! I have always believed that there are better times ahead for me, and my soul mate is getting closer to meeting me! I'm feeling excited about my future and a scared too! Because I have to make some changes which are going to be very hard, but it will happen! I know deep down and have always known that I need to change. I have learnt from my reading the reason my relationships don't work is because I don't let people get close enough to me because of a difficult marriage which damaged me emotionally. " - Helen
"Thank you Norah. This is the first time I've every requested a reading from anyone. I wasn't sure what to expect and although I found some of the information very interesting, I have to admit I also found it confusing. I suppose for my future I'd hope for health and happiness for both my family and myself. I do feel unsure about my future and somewhat restless and your advice to let go of my rigidness and allow myself to experience my emotions are things that I've been battling recently. This is causing tension between my 9-year-old daughter and my husband. My inner nervousness although tempered most often, has as of late been getting harder and harder to conceal." – Melanie
"Thank you Nora, I know things are changing, you reading just solidifies things for me. I know I am Lessed, but have been plagued with negativities and friends who turn out to be enemies, this guide really hit home for me its like my little road map Thank You" - Hierela
Be amazed at Norah's accuracy – get personalized in-depth astrology reports, which take a step-by-step approach to making dreams, come true. Norah Guide delves a deeper insight of current astrological phenomenon and spiritual practices with Norah's Journal, Norah Guide Blog, and Norah's articles via her Tumblir website.
Discover how astrology can work and be worked to one's benefit with accurate transit reports and progression interpretations.
###
Premium Astrology is proud to help men and women all over the world enhance the quality of their lives through spiritual enlightenment. Premium Astrology provides fast, reliable astrological reports, and a variety of other services using the experience of Astro-Clairvoyant Norah Guide. The individual success of each of their clients is their highest priority, and Premium Astrology is available to provide live support 24 hours a day 7 days a week. For more information visit: https://premiumastrology.com/.