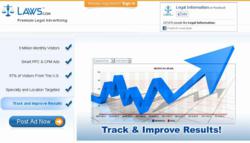 Laws.com the most user friendly law site has launched a new criminal lawyer listing and service.
New York, NY (PRWEB) January 02, 2013
Laws.com the most user friendly law site has launched a new criminal lawyer listing and service. This new service from the site allows the user to find the criminal lawyer and law firm in the USA. The Find a lawyer feature in laws.com now upgraded to include the criminal lawyer search function. The find a criminal lawyer features the lawyers on the bases of the city and state the lawyer is located. This location based user friendly criminal law firm listing helps the user in finding the lawyers in the city or region that the user looking for the lawyer.
The listing also allow the criminal lawyer to claim their profile and update their bio information that help the user to learn more about the law firm and its experience in handling the court case. The detail profile page gives insight into to the lawyer service and other detail that help user to understand the lawyer service.
The attorney search function in laws.com in general allows the user to find lawyer specialized in various verticals like immigration, probate. The user focused design of lawyer listing offer an easy to navigate listing structure that make the search of lawyer even easier and less time consuming process. If the user located a criminal attorney from the list, then the user can go on to explore more information about that particular attorney by click the attorney name and this will take the user to attorney profile, which list information about that particular attorney.
Attorney who wishes to list their law firm in laws.com can do the same by using the Attorney Advertisement sign up in laws.com. This registration page allows the attorney to create a profile with laws.com and to list their law firm service, legal area of specialization, experience and the contact information. The listing will appear in criminal lawyer listing once it's been approved.
To find a criminal lawyer online using laws.com lawyer listing, visit the following URL: http://lawyer.laws.com/criminal-lawyer
Laws.com is a NYC based internet start up focusing of offering useful legal resources to visitors. The site boost pages for various social causes and offer guide for reporting violence against women, child abuse helpline, elder laws and rights. The site has a section for US constitution in easily understand format for kids and many other such initiatives to make law easily understandable to the common man.