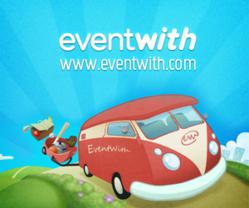 (PRWEB) January 10, 2013
EventWith was created for planning parties and events together with friends and in an organized way. The new app, launching fresh out of private beta, finally puts the lone party planner at ease. EventWith is an online social utility that allows the event planer to create and organize an event; all while incorporating everyone's input and assistance.
Event planners use the EventWith checklist to coordinate people, places and things. The host invites friends, including Facebook friends and friends through e mail, and creates a list of tasks, and if applicable, a budget. Participants then select their task of choice, such as bringing a particular food item, and pay their portion of the budget. With everyone assigned a personal to-do list and instant reminders, everything runs smoothly.
Founded by Itai Fridman and Daniel Beck, two entrepreneurs passionate about new media solutions, EventWith provides features to split up group effort and update participants of changes, a combination which the creators believe other planning tools lacked.
EventWith was born after a fun get-away weekend turned into a weekend of comedic problems. Itai's wife, Dana, tried to plan a quick and fun getaway for six families and everything that could go wrong, went wrong: they accidentally booked five cabins for six families; kids were constantly whining because no one brought enough "kid" stuff to eat; and each family promised their kids different activities, all of which resulted in chaos and confusion.
The online tool caters not only to families, but it is useful for outdoor activities, school PTA events, bachelorette parties, baby showers, and more.
Commenting on future improvements, the EventWith creators stated, "We are currently working full steam on developing our iOS and Android versions. You should expect to see and use EventWith early in the spring. This new version will help event guests respond more quickly and engage on the go."
For more information, watch the YouTube video, http://youtu.be/4T_Byir6HiI
Or visit http://www.eventwith.com.
EventWith is also on Facebook.com/EventWith
About EventWith:
EventWith is a social utility that helps you plan events and have your friends participate too! Choose together a time and place and set up a shared checklist, so that everyone sees exactly what they are responsible for. Manage your budget, create personal to-do lists and much, much more. It's never been this easy to split the effort and share the fun!