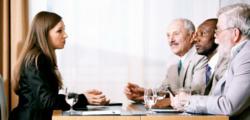 The last thing we want to see is an executive pay for an amazing resume, then give a completely different message with their biography or cover letter that they chose to write themselves
(PRWEB) January 01, 2013
Employment BOOST, an executive resume writing service, is now offering a distinctive $1075 Large Enterprise Executive Resume Service Package for those seeking to rapidly climb the corporate ladder.
The Large Enterprise Executive Resume Service Package includes a resume written by a team of industry experts, a professional and engaging cover letter, and a carefully crafted biography. This unique package differs from the traditional formats executives tend to use as it was stylistically developed based upon the formats executive search consultants use to get their candidates more interviews. These executive search consultants work on a daily basis with executive hiring committees in a variety of industries, allowing them to gain inside information on what companies are currently looking for based on macro and emerging micro trends. This package also offers a biography that is developed to be in line with one's personal brand identity and also includes a personal one-on-one conversation with an executive search consultant.
The services provided with the Large Enterprise Executive Resume Service Package are all carefully tailored to help 'brand' an individual. In essence, a candidate has to sell and market the 'brand' they have created through their resume before they can make a pitch to a company. This is where the included comparative and qualitative analysis against other resumes in the same industry becomes so important. To make a successful 'pitch' you have to know who you are playing against.
"With global employment markets becoming so competitive, those fighting for the best jobs have taken their career search to the next level by integrating and applying marketing principles to develop a personal brand. Our Executive Resume Package is designed to ensure that brand identity is cohesive throughout the resume, cover letter, and biography. The last thing we want to see is an executive pay for an amazing resume, then give a completely different message with their biography or cover letter that they chose to write themselves," states Vanessa Smith, Career Services Manager at Employment BOOST.
At Employment BOOST the in-house SEO expert, copy editing team, and professional writers only produce cutting edge work that incorporates the long standing tradition of doing things the right way. Employment BOOST recognizes that the Executive Resume Service Package may not fit everyone's needs. There are services ranging from $139 at the Entry Level to the Large Enterprise Executive Resume Service Package at $1075.
About Employment BOOST:
Employment BOOST is a Troy, MI based company that provides professional resume writing services and critiquing, cover letter development, resume distribution, social media profile creation, and interview coaching to job seekers across the nation. For more than a decade, Employment BOOST has consistently been helping people achieve career satisfaction. Employment BOOST uses talented industry experts to tailor resumes to the key content that hiring managers seek. For more information on Employment Boost, please call (888)468-6495 or visit http://employmentboost.com.