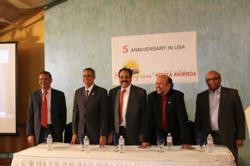 Ayurvedic Panchakarma Therapies reduce Physical Suffering
Edison, New Jersey (PRWEB) January 02, 2013
Santhigram Kerala Ayurvedic Company of USA, a subsidiary of the Santhigram Group, which operates Kerala Ayurvedic Panchakarma Centres in India, and the UK, celebrated the fifth anniversary of its operations in the USA. In a colorful program, Santhigram celebrated the occasion with over two hundred invitees, including its staff, community leaders, business associates, patients and fans of Ayurveda.
Dr. Gopinathan Nair, Global President and founder of the company said, "We are excited to celebrate our fifth anniversary with all our well wishers, who helped us succeed in the US. It was no easy task for us in establishing our Ayurveda business in the US, due to unavailability of skilled manpower locally and the tight credit situation in the US."
Mr. Upendra Chivikula, Assemblyman & Dy. Speaker of New Jersey presided over the function and "congratulated Santhigram on its fifth anniversary and for promoting Ayurveda in the US."
Dr. Sudhanshu Prasad, Councilman of Edison remarked, "This is a great success story. Five years, five centers and more to come." He further appreciated efforts by Santhigram in establishing many Ayurveda Wellness centers in a short span and helping the community and the local economy.
Mr.Alex Vilanilam Koshy, former President of Global Malayali Association and Mr. Aniyan George, former Secretary of FOKANA and FOMAA, pledged their continued support and were "happy to be part of Santhigram's success." Also speaking at the occasion, Mr. Madhavan Nair, President of NAMAM congratulated Santhigram President, Dr.Gopinathan Nair and Vice President & Chief Consultant Dr. Ambika Nair for laying down a strong foundation for the company and wished continued success.
The current synthetic lifestyle has lead modern man into many health problems and Ayurveda offers many side effect free therapies. The stress and strain of daily grind is a major factor for many chronic diseases. Lack of exercise, polluted environment and climatically unsuitable food habits further adds to the problem. Ayurvedic Panchakarma Therapies that Santhigram offers reduce the physical suffering from skeleto-muscular diseases, control several disabilities, ward off the middle age syndrome, possibly retard aging process and help curative powers for body to repair worn out tissues, revitalize, increase memory power, improve vigor and vitality.
Santhigram's specialized Kerala Ayurvedic & Panchakarma therapies help to alleviate specific health problems like back pain, neck pain, frozen shoulder, sinusitis, migraine, joint pain, arthritis, insomnia, depression, reduce excess weight, enhance complexion and skin luster, correct metabolism, and recharge the body and mind.
Santhigram Kerala Ayurvedic Company is an ISO 9001:2008 certified provider of Ayurvedic Wellness Services. Its centers provide specialized Kerala Ayurvedic Panchakarma Therapies. As of today the company has established five Ayurvedic Wellness Centers in the United States, 3 in New Jersey, 1 in New York and 1 in Houston, Texas. In the first quarter of 2013 the company is launching its first wellness center in Chicago, IL and an additional center in Queens, NY.
For Appointments log in at http://www.santhigramusa.com or Call Toll Free: 1-888-KER-AYUR (1-888-537-2987).
Santhigram has cut out an ambitious plan of setting up multiple Ayurvedic Centers in all the 50 states in the US and is looking for partners to launch its world class centers.
For more information contact:
Dr.Gopinathan Nair
President & CEO
Santhigram Kerala Ayurvedic Co. of US Inc.
3050 Woodbridge Ave, Edison, NJ 08837
Phone: +1-732-915-8813, Email: info(at)santhigramusa(dot)com
http://www.santhigramusa.com