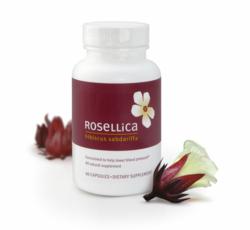 "I have been taking Rosellica for several months and have seen a significant lowering of my blood pressure. Before starting Rosellica my BP was quite high, now it is within the acceptable range for me. Rosellica is doing a great job." — Joyce G, Ohio
River Forest, IL (PRWEB) January 02, 2013
For the benefit of vegetarian consumers looking to manage their blood pressure naturally, the newest Rosellica® formulation uses only plant-derived ingredients.
For generations, the edible flower Hibiscus sabdariffa has been used around the world to help manage heart health. Now recent studies in the U.S. and the UK have confirmed that Hibiscus sabdariffa is able to lower blood pressure to similar levels as antihypertensive medications, and is also effective in managing cholesterol and blood sugar levels in diabetes.
That is why Janzee Inc. developed Rosellica®, the original easy-to-take all-natural supplement that uses the power of Hibiscus sabdariffa as the key to a specially-formulated heart-healthy blend of natural ingredients in a capsule. Since 2009, Rosellica® has benefitted those who are pre-hypertensive and want to avoid medications, or those who are looking for a natural alternative. Check out our web site for more information.
Rosellica is available on the Rosellica® web site and on Amazon.com
"Rosellica®, a surprisingly natural way to help manage your blood pressure."