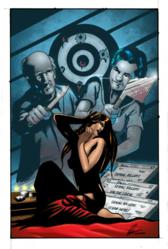 Family Bones is the must-read, true crime graphic novel, now it's even easier to get your bloody hands on.
Los Angeles, California (PRWEB) January 03, 2013
Family Bones is the true crime comic book series that has been popular with critics and readers around the globe; garnering praise throughout it's ten issue run. The story told in comic book form is based on a true story about teenage angst, family secrets, and serial murder on a small Midwestern farm. It's written by Shawn Granger, the actual great nephew of the Copelands.
Family Bones is the gothic story of Ray and Faye Copeland, the elderly serial killers; as told through the eyes of their unwitting nephew. The rebellious teen is shuttled from one family member to the next, finally landing at the farm owned by his elderly Aunt and Uncle. There, the city boy must quickly adapt to the rigors of farm life. He must also adjust to the emotional and physical abuse that Uncle Ray visits upon his wife and nephew. The skeletons in his family's closet are real.
Family Bones true crime graphic novels are now available for the Android, Kindle, iPad, and other formats. Each graphic novel collects 5 issues of the 10 issue comic book mini-series and is available in print version for $14.95 but the digital version retails for only $3.99. For a limited time the books are at a special introductory price of only .99. That's a 93% savings from the paperback retail.
King Tractor Press is now publishing all their comic books and graphic novels in digital formats. "It's awesome. We've spent a lot of time and resources to reformat the Family Bones series for the various digital formats out there," said the King Tractor Press representative. "Family Bones is now a totally new experience. We've really had fun embracing this new digital age. The horror book Family Bones continues to sell well around the world in print form. We don't expect that the digital format will eat into those sales but enhance them. It's really amazing that there are so many options now."
King Tractor Press has also released other comic book titles in the ebook format such as Gene Gardens, a new sci-fi thriller webcomic; Mr. Phelps Space Detective, a sci-fi comedy action comic book series; and Innocent The Sword, an extreme action comic book series.
About King Tractor Press
Since 2004 King Tractor Press has published many popular independent comic books, webcomics and graphic novels including "Innocent", "Family Bones", "Gene Gardens", "Daddy's Girls" and "Mr. Phelps Space Detective". The website is at http://www.kingtractorpress.com.
Contact King Tractor Press for more information at info@kingtractorpress.com.