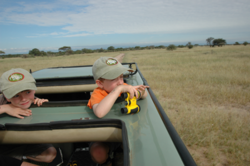 Family travel to exotic destinations like Africa continues to grow in popularity.
Denver, Colorado (PRWEB) January 02, 2013
Denver, Colorado – January 2, 2013 – Spending more time with family and friends tops many New Year's resolution lists, according to recent polls conducted by General Nutrition Centers, Quicken, and others. With a reported more than 50 percent of Americans vowing to spend more time with family in 2013, the family vacation gains ground as a favorite way to enjoy time together. Family travel to exotic destinations like Africa continues to grow in popularity as well, according to Kent Redding, president of Africa Adventure Consultants (AAC). The safari outfitter is making things easier for at least one family to be together in the new year by offering a 10-day African safari grand prize in its "Monkey See, Monkey Do African Safari Contest."
"A carefully planned safari can be an amazing family experience for children of all ages," says Redding, who took his first son to Africa as a seven-month-old and has continued to take his sons, now 7 and 9 years old, on safari. "And unlike certain vacations that parents suffer through so the kids can have fun, the wonderful part of family safaris is everybody has fun."
Redding's company, Africa Adventure Consultants, is sponsoring a video contest in conjunction with South African Tourism and South African Airways, with a grand prize of a 10-day South Africa family safari for four including airfare. To enter, contestants post a video of their children acting like their favorite South African creature to the contest website. Videos with the most votes will go before a panel of judges with the winner to be announced in February.
Parents will find entering their little monkeys is easy:
1. Make a brief video of kids monkeying around and acting like a favorite South African animal
2. Upload to YouTube or Vimeo and paste the link into a contest entry on the "Monkey See, Monkey Do" website by January 31, 2012
3. Share links and encourage friends and family to vote – the top 25 vote-getting videos will go before judges, who will award the grand prize to the one with the most quality, humor and creativity.
Complete contest information – including contest rules and an easy-to-use entry form – are on the contest website at http://www.adventuresinafrica.com/african-safari-contest.
South Africa is a perfect family vacation destination with excellent family-friendly accommodations that accept children of all ages and across a wide range of budgets. Many hotels and lodges offer swimming pools as well as activities designed with families in mind. Families can swim with penguins, visit a monkey sanctuary, take a cable car up Table Mountain, ride ostriches, zipline, go on safari and more. Finally, South Africa offers plenty of malaria-free safaris for those who prefer not to take anti-malaria medication. For more ideas and information about South African family safaris, visit the South Africa Tourism website at http://www.southafrica.net.
Company Information: Africa Adventure Consultants is a leading safari company specializing in crafting custom itineraries to 13 countries in Africa, from classic photo safaris and adventure trekking to luxury honeymoons and family holidays. The staff at Africa Adventures Consultants has lived, worked, and traveled throughout Africa, giving them an insider's perspective on how to create the best safaris in the continent's top destinations. For additional information, visit http://www.adventuresinafrica.com.
Media Contact: Darla Worden, WordenGroup Public Relations, [email protected], 303.777.0635