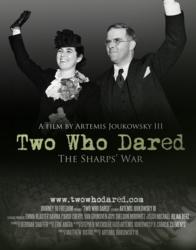 Former Minister of Flint UU Congregation spotlighted in documentary film about WWII rescue.
Flint, MI (PRWEB) January 04, 2013
The Unitarian Universalist Congregation of Flint is proud to announce the screening of the film: TWO WHO DARED: THE SHARPS' WAR. TWO WHO DARED is the never before told story of Waitstill and Martha Sharp, an American Unitarian minister and his wife who boldly committed to a life-threatening mission in Europe to help save imperiled Jews and refugees at the onset of World War II. After two harrowing assignments in Europe, the Sharps returned to the States and continued their life-long work of helping others. Waitstill Sharp led the ministry at the UU Congregation of Flint from 1963 until 1967 and is warmly remembered throughout the UU community. Please join them in a homecoming to celebrate his service and ministry.
On September 9, 2005, Yad Vashem, the World Center for Holocaust Research, Documentation, Education and Commemoration, awarded the late Waitstill and Martha Sharp the title of "Righteous Among the Nations". This immense honor has only been bestowed on one other American.
TWO WHO DARED: THE SHARPS' WAR will screen on Saturday, January 11, 2013 at 6:30 pm (doors will open at 6 pm) and is scheduled to be shown in the Chapel. Screening is free but donations are welcome.
The Unitarian Universalist Congregation of Flint is located at: 2474 S. Ballenger Hwy, Flint, MI 48507.
For questions call the office at 810-232-4023
UU-Flint is a intergenerational church of members from Flint, Genesse County and across mid-Michigan:
http://www.uuflint.org/index.html
TWO WHO DARED: THE SHARPS' WAR is a project of No Limits Media, Inc., a 501 (c) (3) organization. Founded in 2001, No Limits Media (NLM) is a multimedia development and production company dedicated to informing and entertaining the estimated 20% of the U.S. population that directly lives with a disability.
For more information, please visit the website: