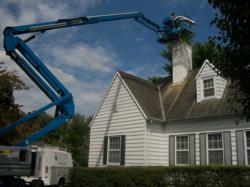 (PRWEB) January 02, 2013
Due to a recent outbreak of chimney fires in Henderson County, locally-owned Environmental Chimney Sweep is urging residents to have their chimneys cleaned and inspected.
Chimney fires can travel quickly to other areas of the home and cause widespread devastation. The most common cause of a chimney fire is the buildup of creosote or pails of ashes.
Creosote is a corrosive and highly combustible substance that builds up on the inside walls of chimneys and wood stoves as a by-product of burning wood. This built-up soot can obstruct proper ventilation and cause a fire within the chimney flue.
"Typically, a chimney cleaning costs a few hundred dollars, but will save homeowners time and money in the long run," says Ritchie Baxley, owner of Environmental Chimney Sweep. "Cleaning your chimneys is important, but you should also do inspections and necessary repair work if needed. You'll enjoy your fireplace or stove much more if you take all steps to avoid potential danger and keep your chimneys in top working condition."
Baxley offers the following tips for homeowners to reduce creosote buildup and prevent chimney fires:
-Have your chimney cleaned and inspected each year, as recommended by the National Fire Protection Association.
-Be sure your chimney is inspected using a video camera. This is the most effective way to examine all of the areas of your chimney.
-Remember that fireplace logs, granules and sprays advertised as "self-cleaning" should not be considered a replacement for your annual chimney cleaning.
-If you are going to use packaged logs, cut them into one-inch pieces and toss them into the fire one at a time to promote more efficient combustion and reduce creosote buildup.
-Put ashes in a metal bucket and dump them outside. After dumping, wet them down with water.
About Environmental Chimney Sweep
Environmental Chimney Sweep is a full-service chimney sweep serving Asheville and Hendersonville, North Carolina and surrounding areas. Founded in 1990, the company is owned and operated by Richie Baxley. Environmental Chimney Sweep is certified by both the North Carolina Chimney Sweep Association and the National Chimney Sweep Guild. To learn more, visit http://www.safechimneys.com.
To see a recent local news article about chimney safety, visit: http://www.blueridgenow.com/article/20121120/ARTICLES/121119774
Contact
Jonathan Sanders
Office: 615-815-1788
Fax: 888-283-8269
jonathan(at)sparkmarketer(dot)com