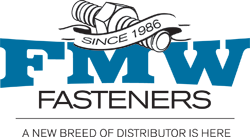 Houston, Texas (PRWEB) January 02, 2013
FMW Fasteners has launched the latest version of http://www.fmwfasteners.com and customers will find a cleaner, more intuitive interface with additional features to make their online shopping experience even better.
"We wanted to offer improvements in three key areas for our online consumer," said Taha Raja, General Manager of FMW Fasteners. "We wanted to provide a cleaner, more intuitive UI (user interface) for better browsing, we wanted to offer improved "search" functionality so that users can find what they need more quickly and with fewer clicks and we wanted to offer better ways to re-order items so that repeat purchases can be done more quickly."
"We made the decision to use HTML5 in completely redesigning the website," said Steve Baker, Sales Manager at FMW Fasteners. "This benefits our customers in that regardless of the device they use, whether a PC, a tablet or their phone, the website will render correctly and be more usable for the browser and the device they are working from."
Customers will also notice significant improvements in performance based on the sites' redesign. FMW Fasteners also continues to offer free shipping on orders over $25.00 and flat rate $5.00 shipping on orders under $25.00.
FMW Fasteners is your online source for premium fastener products, to include anchor products, nuts, bolts, socket products and screws. Founded in 1986 in Houston, Texas, FMW Fasteners stocks premium products by Brighton-Best, Simpson Strong-Tie Anchor Systems, ITW Buildex, Intercorp, Toggler® Anchor Systems, FastenMaster and many more. For more information, visit http://www.fmwfasteners.com or follow FMW Fasteners for updates and promotions on Twitter, Google+ and Facebook.