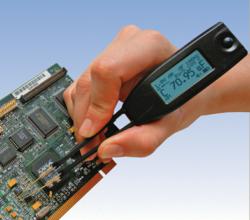 Smart Tweezers LCR-meter comes in handy perfectly complementing powerful but sometimes hard to use bench electronic test equipment.
St Petersburg, Russia (PRWEB) January 30, 2013
Siborg Systems Inc based in Waterloo, Ontario, Canada reached an important agreement with with Dipaul from St Petersburg, Russia on marketing and service of a new model ST5 of the world renowned LCR-meter Smart Tweezers.
NPF Dipaul is, since 1990, a wholesaler specializing in supplying equipment, tools and consumables, for the electronics industry. With two offices in St Petersburg and Moscow, for many years they successfully cooperated with Agilent Technologies, Dima, Fluke, Mydata, Nordson Dage, Teseq, Thermotron and others. The list of clients, to name a few, includes Russian Federal Nuclear Center, Russian Space Systems, Samara Space Center, and Ioffe Institute.
In all applications varying from construction of electronic production lines to establishment of test solutions in research centers Smart Tweezers LCR-meter comes in handy perfectly complementing powerful but sometimes hard to use bench electronic test equipment.
"We provide test solutions from Agilent in Russia for a number of years", says Alkexander Lyubimtsev, Project Manager at Dipaul, "and we appreciate how well Smart Tweezers LCR-meter compliments bench-type testers in a quick yet accurate evaluation of LCR-components."
Smart Tweezers LCR-meter combines a high-precision tweezer probes, an LCD screen, and an LCR meter designed for Surface Mount Technology. The newest model, the ST5, introduced a designated ESR measurements, continuity and diode test, component sorting and 6 times higher than that of the older models.
Unlike bench-type testers that offer the same accuracy but cumbersome to use, Smart Tweezers is a fully automatic LCR-meter that is easily used with one hand, leaving the other free for other tools. The lightweight, 2 oz. device allows for component evaluation, as well as quick PCBs testing or debugging.
With the ability to automatically identify components, Smart Tweezers LCR-meter is capable of evaluating all types of passive SMD and through-hole devices. It allows fully automatic as well as manual measurement of Inductance (L), Capacitance (C) or Resistance (R) with high speed and precision of a bench-type meter. Smart Tweezers also measures for secondary parameters such as the Equivalent Series Resistance (ESR) of a capacitor. A unique mechatronic design allows Smart Tweezers to have well defined, very low parasitics that are easily eliminated using a resistance new semi-automatic offset subtraction. This feature allows Smart Tweezers to measure very low and capacitance of 1 milliohm and 1 picofarad range. It can also measure a fraction of microhenry when measuring inductance.
Smart Tweezers LCR-meter is an industry proven tool for professional work involving SMT component sorting, in-circuit and on-board impedance testing and PCB debugging, as it is used by numerous high-tech companies worldwide.
The Smart Tweezers Blog features all the latest news.
About Siborg Systems Inc:
Established in 1994, Siborg Systems Inc. is a source of engineering software and hardware tools for semiconductor and electronics industry. Located in the city of Waterloo, Ontario, Canada, it enjoys being part of the local world-renowned high-tech community.
About Dipaul Group
DIPAUL group since 1990 implements hi-tech projects for Russian electronics industry, with main activities in the following directions:

Key tasks fulfillment for establishing electronics manufacturing facilities
Innovative technology search, adaptation and implementation
Manufacturing facilities design and construction
Enterprise equipment upgrade according to modern technical requirements
Scientific and technological consulting
Production process audit, adaptation of international standards and implementation of quality control methods
Advanced training and educational programs for specialists in electronics industry
For more information contact:
Alexander Lyubimtsev
NPF DiPaul
Professora Popova st., 21/23A
197376, St.-Petersburg, Russia
tel./fax: +7 (812) 325-14-78, 702-12-66
e-mail: pribor(at)dipaul.ru
url: http://www.dipaul.ru