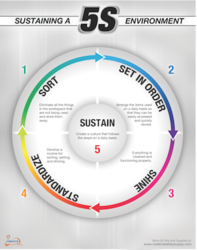 "The 5S Environment Handout was easy to download and was an essential tool for conveying the principles of a 5S program."
Lake Oswego, OR (PRWEB) January 03, 2013
Many business owners today are implementing programs such as the 5s philosophy that focuses on effective workplace organization and standardized work procedures. To be competitive in the business world equates to reducing waste and improving efficiency while improving quality and employee safety. 5stoday.com is now offering a 5S Environment Handout that can be downloaded quickly and easily for training events. The full color digital download is based on 5s and conveys all the steps in a 5s program with a description of each one that anyone can understand. Training coordinators can hand them out in workshops, or given to employees as general reminders to keep thinking how to sustain a 5S environment.
The 5S Environment Handout references the five elements of the system: Sort, Set in Order, Shine, Standardize and Sustain. Sorting as the first step in 5S focuses on removing all unnecessary items from the workplace which frees up workspace and enhances productivity. The second step (Set in Order) of the 5S process focuses on efficient storage and location methods which results in a more organized workplace thus saving time and being more productive. Shine is the third step focusing on cleaning up the place now that all the clutter and junk has been removed which will improve employee morale and make the workplace cleaner and brighter where all employees will enjoy working. The fourth step of Standardizing is making sure that the first three steps are maintained which ensure conditions prior to the first three activities won't resurface. Sustain as the final fifth step is making it a habit to properly maintain the new processes and is the most critical step to keep the benefits of the previous four steps in place.
A safety coordinator and training specialist commented, "The 5S Environment Handout was easy to download and was an essential tool for conveying the principles of a 5S program."
For more information about 5S Environment Handout, please contact http://www.5stoday.com/ or call toll-free (866)402-4776 to speak with a professional representative.