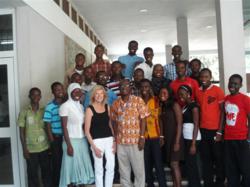 "We are very excited to be named a Top-Rated 2012 Nonprofit," says Sara Lafrance, EPI President
Incline Village, NV (PRWEB) January 09, 2013
Educational Pathways International (EPI), a U.S. based NGO that provides university scholarships to gifted Ghanaian student of the greatest financial need, announced today that it has received the prestigious 2012 Top-Rated Award by GreatNonprofits, the leading provider of user reviews about nonprofit organizations.
"We are very excited to be named a Top-Rated 2012 Nonprofit," says Sara Lafrance, EPI President. "It provides recognition of our accomplishments and honors the hard work and achievements of our scholarship recipients."
The Top-Rated Nonprofit award was based on the large number of positive reviews EPI received – reviews written by donors, board members, scholarship recipients and alliances. Less than 1% of eligible nonprofits won a place on the 2012 Top-Rated List.
"We are gratified by EPI for its work," said Perla Ni, CEO of GreatNonprofits, "They deserve to be discovered by more donors who are looking for a great nonprofit to support. The reviews show on-the-ground results and represent a form of recognition by the community."
About EPI
EPI recognizes, supports, and empowers gifted young people from families of need in the country of Ghana through a comprehensive university scholarship program which includes financial assistance as well as counseling, guidance and support in the areas of academic performance, career development, language skills, and leadership. http://www.educationalpathwaysinternational.org
About GreatNonprofits
GreatNonprofits is the leading site for donors and volunteers to find reviews and ratings of nonprofits. Its mission is to inspire and inform donors and volunteers, enable nonprofits to show their impact, and promote greater feedback and transparency.
http://www.greatnonprofits.org