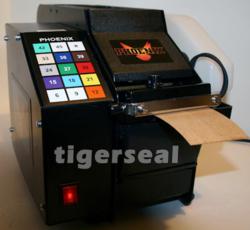 Fast same day shipping on most stock products. Free shipping on postage tape, postage ink and seal solution.
Washington DC (PRWEB) January 01, 2013
Tigerseal Products was awarded the "Best of the Best" designation for excellence by Follow Media Consulting, Inc. in the category of Automatic Tape Dispensers and Phoenix E1 Premier HD. This award signifies the continued commitment and dedication of the areas best in office accessory tape and packaging dispensers.
Tigerseal Products serves over 11,000 companies and organizations. They provide postal meter supplies (postage tape, postage ink, wafer seals, sealing solution and more), tape dispensers and label dispensers, thermal printer supplies (including genuine Zebra Labels, Datamax Labels, as well as their own quality Tigerseal brand thermal labels), laser label supplies, and more. There's free same-day shipping on postage tape & ink, the longest warranties in the industry on tape dispensers, and excellent customer service.
Tigerseal Products is the only source in quality postage supplies, thermal printer supplies, packaging equipment, MACO labels, point of sale supplies, shipping and office labels. Their website also contains precise information on their products which also has its own description for you to easily understand and appreciate their products. You can also call them at 800-899-9389 for further information on their company and services.
About Follow Media Consulting, Inc.
Named one of the best SEO companies by Jonas Marketing, Follow Media Consulting, Inc. is a rapidly growing worldwide firm of SEO, Social Media, and Mobile Marketing Professionals. Follow Media Consulting, Inc. headquarters is located in Richmond, VA. However, our professional team is networked across the world, with regional offices across the United States, in the United Kingdom, Canada, Australia, France, South Africa, the Philippines, and India.