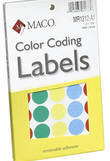 Fast same day shipping on most stock products. Free shipping on postage tape, postage ink and seal solution
Washington DC (PRWEB) January 03, 2013
Tigerseal Products was awarded the "Best of the Best" designation for excellence by Follow Media Consulting, Inc. in the category of Postage Meter Labels and Color Coded Labels Richmond VA. This award signifies the continued commitment and dedication of the areas best in office accessory postage meter labels and packaging dispensers.
Tigerseal's color coded labels are excellent for product identification and product coding for stock rotation. Their labels have removable adhesive so one can remove the label without leaving shreds of the label on a product. Their color code labels come in numerous colors and styles. With this kind of product, clients can organize file folders, storage cartons, crates, etc. It can be also used for inventory control, flagging, price coding, priorities, etc. Their color coded labels has endless applications. It also has numerous colors available and has a removable adhesive.
Tigerseal Products is the only source in quality postage supplies, thermal printer supplies, packaging equipment, MACO labels, point of sale supplies, shipping and office labels. Visit their website at http://tigersealproducts.com/. You can also call them at 800-899-9389 for further information on their company and services.
About Follow Media Consulting, Inc.
Named one of the best SEO companies by Jonas Marketing, Follow Media Consulting, Inc. is a rapidly growing worldwide firm of SEO, Social Media, and Mobile Marketing Professionals. Follow Media Consulting, Inc. headquarters is located in Richmond, VA. However, our professional team is networked across the world, with regional offices across the United States, in the United Kingdom, Canada, Australia, France, South Africa, the Philippines, and India.