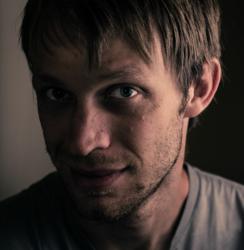 Michael Clark is a remarkable talent. He brings to Optima superb animation, illustration and design skills that will enhance branding for clients while elevating us to a global design playing field
Anchorage, Alaska (PRWEB) January 08, 2013
Prominent South African designer and animation director Michael Clark has joined the design team at Optima Public Relations.
"We are very pleased with Michael's decision. This is an example of how our world is flat and global design networking benefits the client," said Tom Anderson, managing partner at Optima. "Our client capacity can now expand, as will our graphic and animation creativity with Michael's international perspective," added Anderson.
"Michael Clark is a remarkable talent. He brings to Optima superb animation, illustration and design skills that will enhance branding for clients while elevating us to a global design playing field," noted Sarah Paulus, Optima's Design Director.
Clark's broadcast and digital designs, as well as animation work product, are abundant. He studied Information Design at the University of Pretoria, later centering on promotions and channel branding at StudioZoo for DStv in Johannesburg. Clark also spent time as a digital designer in London at various agencies, most notably Holst Digital, before returning to Johannesburg to freelance as an After-Effects specialist and animation director. He has since worked on a diverse spectrum of projects ranging from African television shows and channel branding to 2D character animation and museum installations.
"This is a unique step for me, crossing the globe to team with U.S. design talent. I believe our international design/animation collaboration will benefit businesses and organizations seeking innovation. I'm eager to provide new design customers with spectacular and robust imagery. My goal is to inspire people throughout the world with meaningful graphics and animation," said Clark.
Optima Public Relations is a U.S. advertising and media relations firm that performs a wide range of services including graphic, animation and website design, community and media relations consultation, political campaign advisement, video/radio production and placement, and market branding.