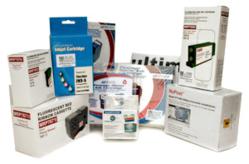 Fast same day shipping on most stock products. Free shipping on postage tape, postage ink and seal solution
Washington, DC (PRWEB) January 02, 2013
Tigerseal Products was awarded the "Best of the Best" designation for excellence by Follow Media Consulting, Inc. in the category of Postage Meter Supplies. This award signifies the continued commitment and dedication of the areas best in quality postage meter supplies.
Tigerseal® Products has over 28 years of experience in the mail and packaging industry. Their products can be found in over 11,000 companies and organizations across America. From Fortune 500 companies, to government agencies, to home based businesses, Tigerseal Products have proven that companies can purchase quality postage meter supplies and save money.
Postage Meter Supplies includes:
Postatge meter tape features a permanent adhesive combined with an ultra smooth facestock for superior performance. All postage tape packs are moisture proof shrink wrapped for long shelf life and to prevent moisture damage and contamination. If businesses use Pitney Bowes, Ascom Hasler, Neopost, or Postalia Postage Meter, Tigerseal's postage tapes will provide superior performance at a lower cost. Plue, their postage tape prices include free shipping!
Postage meter ink complies with ALL US Post Office and machine manufacturer specifications.
Postal tabs' adhesive is specifically designed for high initial quick stick to a wide range of material surfaces. The 50 pound backing sheet is custom treated for the high speed dispensing of small labels. Tigerseal postal tabs meet or exceed postal compliance requirements! They offer Postal Tabs in White Litho, Translucent, Clear, Transparent, and Pinfeed. Tigerseal's postal tabs and wafer seals now come in smaller diameter rolls that can be dispensed with either a manual or automatic postal tab dispenser for even greater efficiency!
Tigerseal Products is the only source in quality postage supplies, thermal printer supplies, packaging equipment, MACO labels, poinq of sale supplies, shipping and office labels. You can visit their website at http://tigersealproducts.com/. You can also call them at 800-899-9389 for further information on their company and services.
About Follow Media Consulting, Inc.
Named one of the best SEO companies by Jonas Marketing, Follow Media Consulting, Inc. is a rapidly growing worldwide firm of SEO, Social Media, and Mobile Marketing Professionals. Follow Media Consulting, Inc. headquarters is located in Richmond, VA. However, our professional team is networked across the world, with regional offices across the United States, in the United Kingdom, Canada, Australia, France, South Africa, the Philippines, and India.