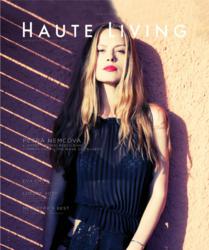 In situations like that you find inner strength that you never thought was there.—Petra Nemcova
New York, NY (PRWEB) January 02, 2013
In the new issue of Haute Living New York, we talk with supermodel Petra Nemcova, who, after narrowly escaping death during the 2004 Indian Ocean tsunami, founded the Happy Hearts Fund, a non-profit foundation dedicated to rebuilding schools and communities following natural disasters.
"In situations like that you find inner strength that you never thought was there. It's a matter of survival so you don't have a choice," Nemcova says.
After the tragedy in which she lost her boyfriend, she turned her experience into something positive and now works to rebuild the lives of those who have lost everything. "I tried to understand what we could do to create the biggest impact on many levels. Happy Hearts Fund come in when it's not attractive to be there."
Petra lives in New York and spends her days immersed in her fast-paced downtown Battery Park neighborhood. "There's a strong sense of community there. There are great schools and lots of wonderful restaurants. Plus, people actually talk to each other!"
Read the full interview in the December/January issue of Haute Living New York.
Also in this issue, we highlight the latest food trend sweeping the city—glam Kosher food. Jezebel's executive chef, Chris Mitchell, opens up about the innovative techniques he employs to keep the menu 100 percent Kosher. We've also rounded up the most romantic date spots, chicest new restaurants and decadent bakeries to keep you entertained well into the warm weather.
About Haute Living.com
The Haute Living website is the premier go-to for information on all things Haute around the world. With pages dedicated to 8 cosmopolitan cities, editors update readers on daily news, exclusive events, exciting openings and product releases. The Haute Living group also extends to niche luxury markets, with news about everything Haute, from yachts to interior design. The acclaimed Haute Time leads the group, providing luxury timepiece aficionados with product previews, exclusive interviews and more.
About the Haute Living Brand
Haute Living Magazine is a national luxury lifestyle magazine published in four markets—New York, Miami, Los Angeles, and San Francisco. Haute Living Magazine features the top entrepreneurs, businesspeople, and notables in each market. Haute Living Magazine also highlights the best in luxury consumer goods, culinary hot spots and events. Haute Living recently redesigned its website and re-launched its Haute Time and Haute 100 websites for state-of-the-art experiences.
For inquiries, please contact:
Renee Lucas
Managing Editor
t: (646) 490-7987
e: rlucas(at)hauteliving(dot)com