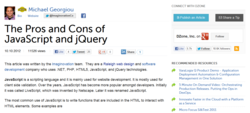 Raleigh, NC (PRWEB) January 24, 2013
Innovative Raleigh web design and software company Imaginovation expands its marketing campaign by affiliating with online development community DZone. DZone is a leading online community that produces and publishes useful content for their global audience of software developers and architects as well as web design firms. DZone has recently partnered up with leading software and web design company Imaginovation to provide useful blogs and articles for their high level insight on software implementations. DZone found Imaginovation on the top of Google search for Raleigh software design, Raleigh software development, and Raleigh software design, in which they were almost sure Imaginovation must be up there for two reasons: they are a industry leader in web design, and they are versed in the realm of software.
Imaginovation has written multiple interesting topics for DZone. Some topics include WCF Service Application Documentation 2012, Using Log4Net in Web Applications, Windows Services, The Pros and Cons of Javascript and jQuery, and more. Due to the interest and demand on these development topics in the software market, and large amount of viewers and amount of web traffic they have generated, DZone has honored Imaginovation by accepting them into their "Most Valuable Blogger" or MVB program.
A question that some may ask about this MVB program, what's in it for the blogger? DZone brings in over 6 million hits per month on its website along with its Google Page rank of 6/10; Companies and individuals writing content for DZone receive a well-rounded amount of traffic, high quality backlinks, brand recognition, and credibility in the software community.
Imaginovation implements custom software, web design, and Internet marketing solutions to companies who need a boost in online presence and online capabilities. Their intuitive strategies and top notch customer service has them as one of the fastest growing web companies in the Raleigh area. Click here --> Imaginovation - Raleigh Web Design to learn more about web design, blogging, software development, and web development.