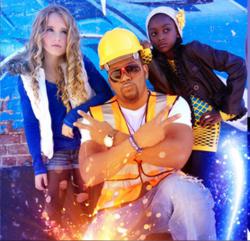 Young girl group walking out of a corner store produced by producer of Friday.
(PRWEB) January 01, 2013
If anyone knows anything about how to create videos and music that have the potential to go viral it is Patrice Wilson, who is formerly one of the original founders of the label that released Rebecca Black's infamous "Friday" viral video and song. The producer have not only contributed to being the main cause for the song "Friday" to go viral, but also other songs following song that plagued the media for its repetitive and simple anthem. Kenalsworld a world of music, art and design blog mentions that the indie producer is a musical genius for playing with people's emotions. Wilson's latest song "Skip Rope" by his recently discovered child duo Tweenchronic is another one of his attempts to cause a stir in the media and he may just succeed again.
Tweenchronic's "Skip rope" teaser feature scenes of the young girl group walking out of a corner store implying that they just bought some drinks. The drinks placed in brown paper bags also imply that the drinks are either bad for the kids and convey a negative message visually. The shock value in the video is definitely there already from the teaser alone. Surely once released new years day the video will cause a stir on the web again possibly going viral when many major blogs and networks pick up the released content from the producer. The video is borderline awkward, bad and good. Although the lyrics are not nearly as bad as the viral songs "Friday" which racked up to 165 million views and "It's Thanksgiving" with over 12 million views penned by Patrice Wilson the perception and direction make the videos slightly uncomfortable to watch, but the song itself is unforgettable and catchy.
Kenal the author of Kenalsworld states that the producers goal was to get listeners involved in " Learning the days of the week with "Friday" by Rebecca Black, the holidays through "It's Thanksgiving" with Nicole Westbrook and now how to "Skip Rop" by Twenchronic. Truly Patrice Wilson is an innovator teaching people through kids and with music in a ridiculously humorous way. It is almost sad, but one have to think that these kids parents approved of this. Listen to Tweenchronic Skip Rope."
People, reviewers and critique will most likely hammer the songwriter for penning another song that is horrible or suggest that he is ruining these young aspiring musicians career, but the opportunity for them to ever even be exposed probably may have never come. Surely these young kids full of energy that Kenal describes as "crunk" on his post "Tweenchronic Skip Rope Lyrics by Thug Child Rappers" may appear as better live performers than Rebecca Black and Nicole Westbrook if the opportunity presents itself.
Regardless the exposure that comes with working alongside the infamous producer may hinder their career or may open more opportunity for these young aspiring musicians. However, even if the new song by the young girl group Tweenchronic "Skip Rope" lyrics are poorly written and gain many views exposing the artists what is better than performing on Good Morning America, Late Night shows, and having music debuted on the E! channel. These kids are surely in for a surprise of their lifetime as the video may end up a major viral anthem like some of the past songs this producer have released.
Listen to the full song and read partial of the Tweenchronic Skip Rope lyrics on Kenalsworld today as well as other featured musicians.