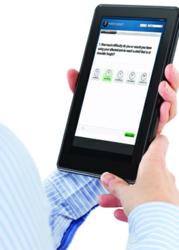 Knoxville, TN (PRWEB) January 01, 2013
Focus on Therapeutic Outcomes, Inc., (FOTO) is announcing the release of its web-based patient survey system, Patient Inquiry® as an entry-level, stand-alone product for outpatient rehabilitation providers. Patient Inquiry® has been a component of FOTO's outcomes measurement system for many years, serving as the data collection system. According to FOTO, almost 5 million patient surveys have been collected by Patient Inquiry® over the years, providing the database foundation for FOTO's Outcomes Management reporting services. Separating the FOTO Outcomes System into two products provides a more targeted solution for providers who want to comply with the recent rule the Centers for Medicare and Medicare Services (CMS) published in November 2012 (CMS 1590FC) requiring functional limitation reporting on claims, says FOTO's COO, Curtis Jones. Jones continued:
"It made sense that we offer Patient Inquiry® to providers who want a cost-effective, automated system that will calculate the patient's functional limitation and convert it to the correct G-code and severity modifiers automatically. Since Patient Inquiry® has been refined for years to survey the patient very efficiently, we know providers will save significant staff and therapist time. Providers will also eliminate most coding mistakes, specifically any due to scoring incorrectly or inadvertantly choosing the wrong G code."
According to FOTO, Patient Inquiry® is offered to therapy providers as a subscription service for $15 per therapist per month. There is also a one-time setup fee per clinic of $150. In contrast, the full FOTO outcomes measurement and management solution, Outcomes Manager, includes Patient Inquiry® and is offered at $25 per therapist per month and carries a $50 per month clinic fee. There is also a one-time setup fee per clinic of $250.
FOTO's CEO, Ben Johnston, PT, also says:
"FOTO has been working hard to make data collection an efficient clinical process that enhances the experience for both the patient and the clinician. In addition to over 80 years of clinical private practice experience between my partner Al Amato and me, we have listened closely to our thousands of customers and used this feedback to develop Patient Inquiry® into a valuable asset to the clinical procedure. In addition, providers who use Patient Inquiry to comply with these regulations, will be establishing a database for their patient care from which they can review their patient outcomes in the future. There is no other compliance tool on the market that can provide that option."
About FOTO:
FOTO is a Knoxville, TN, based corporation that has been continuously improving solutions that efficiently and reliably measure and report functional outcomes for the Rehab industry for 20 years. FOTO's web-based solutions are risk-adjusted to enable fair and accurate measurement and predictions of the expected improvement in a patient's functional status. Approximately 5 million patient surveys have been compiled in the FOTO database, and researchers have utilized FOTO data to publish over 85 articles on functional outcomes in refereed medical journals. These publications have led the way in enhancing the science of measuring outcomes and the use of outcomes in payment methodologies. FOTO is considered the standard in measuring functional outcomes in Rehabilitation.
For detailed information on the ruling or to learn more about the Patient Inquiry product, visit patient-inquiry.com or contact Judy Holder at 1-800-482-3686 x238