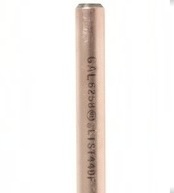 "This change provides an opportunity for cost savings for both end-users and distributors."
Harrisburg, NC (PRWEB) January 02, 2013
Galvan's UL-Listed 6258 (5/8" x 8') copper-coated ground rod with 10-mils of copper plating can now be used in lieu of 13-mil copper-coated rods for the RUS market. This change provides an opportunity for cost savings for both end-users and distributors by reducing material cost and eliminating a SKU.
RUS Informational Publication 202-1, recently updated, added new sections for Ground Rods to the approved List of Materials allowing for minimum copper coatings of 10 mil as long as the rods in question are UL listed. The new sections will be "Conditional" for a period of time to gauge the performance of these rods on a preliminary basis.
Galvan's copper coated rods have a uniform coating of copper electro-plated to a rigid cold-drawn steel core. The ends are pointed and chamfered for easier driving without mushrooming. Each rod is clearly and permanently marked, identifying the manufacturer and displaying the UL symbol.
Made in the USA, Galvan's UL-Listed copper-coated ground rods are used in residential, commercial, industrial and utility applications, including construction, cable TV, lightning protection, telecommunications and power transmission.
The company's patented copper plating process (US Patent #6,527,934) uses recycled scrap copper and operates within a highly-efficient closed loop system that releases no chemical wastes into the environment. This makes Galvan's copper coated ground rods a viable choice for environmentally conscious installers and end users.
Galvan also manufacturers UL-Listed copper-coated ground rods with 13-mils of copper plating, plus solid copper, listed hot dip galvanized and listed stainless steel ground rods.
About Galvan
Galvan Industries, Inc., located in Harrisburg, NC, has been a trusted supplier to the electrical, electronic and utility industries for more than five decades. Galvan ground rods, grounding accessories and connectors are available from leading electrical wholesalers and distributors throughout the United States. For more information, call 1-800-277-5678; fax 704-455-5215; email sales@galvanelectrical.com or visit Galvan on the Web at http://www.galvanelectrical.com.