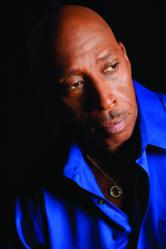 Mission Viejo, CA (PRWEB) January 03, 2013
Saddleback College radio station KSBR 88.5FM and the City of Mission Viejo are proud to announce that the Radio on TV taping and broadcast of "Breakfast with Gary and Kelly" will kick off their third season on Saturday, January 12, 2013 and their special guest will be legendary vocalist Jeffrey Osborne. The Saturday morning radio show will broadcast LIVE starting at 9:00am from the Norman P. Murray Community Center, 24932 Veterans Way in Mission Viejo.
A studio audience will be welcomed in for the 10:00 am to 12:00 pm show; doors will open at 9:30 am with the final hour being videotaped for later broadcast. The program airs on the City of Mission Viejo's MVTV Channel 30 every Tuesday through Sunday evenings at 8:30 pm and also airs on Saddleback College's SCTV Channel 39 each Friday and Sunday morning at 11:00 am throughout the Cox Communication cable system in South Orange County. The audience will be admitted for free but seating is limited. Reservations can be made online at http://www.ksbr.org
Jeffrey Osborne's remarkable solo career has produced 5 gold and 5 platinum records, including his international hit "On The Wings Of Love". Other hits include "Don't You Get So Mad," "Stay With Me Tonight," and "Love Power," which he performed with Dionne Warwick. Jeffrey recorded an album of duets with James Ingram and has written or worked with a veritable who's who of the music industry. He has just finished work on "A Time For Love" with producer George Duke, an amazing collection of classic tunes such as "Don't Let Me Be Lonely Tonight", "(They Long To Be) Close To You", a remarkable version of "Baby, It's Cold Outside" with Chaka Khan and more.
Past guests on "Breakfast with Gary & Kelly" have included Debbie Reynolds, Linda Evans, David Benoit, Peter White, Diane Schuur, Brian Culbertson, Euge Groove, Rick Braun, Paul Brown, Warren Hill, Bill Cantos and more. Gary and Kelly have conducted numerous remote broadcasts from locations all over Southern California, including the Festival of Arts in Laguna Beach and Catalina Island and they have hosted many celebrity guests. Their following has grown since the show's inception in 2006. Bergeson has been in radio broadcasting since 1994 and he's a National Account Manager for R & R Industries, Inc. Bennett, also a veteran of radio since 1998, owns Bennett Productions Unlimited, a PR company and is also the Society Editor for five local papers published by Mission Viejo News Groups.
KSBR is a community service of Saddleback College. The program continues the partnership between Saddleback College and the City of Mission Viejo. For more information on the Radio on TV monthly series and how to become part of the audience for the January 12th show, please tune to 88.5 KSBR or visit their website at http://www.KSBR.org
Located in Mission Viejo, Saddleback College provides quality higher education and training to the greater south Orange County community. Having served more than 500,000 students since 1968, Saddleback College offers over 300 degree and certificate programs to help students reach their personal, career, and educational goals. For more information, please visit http://www.saddleback.edu and for Fine Arts information, please visit http://www.saddleback.edu/arts