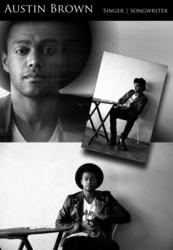 Soul, Class and Musical demonstration is what Austin Brown represents as well as deliver through his all of the music that he releases.
Los Angeles, CA (PRWEB) January 01, 2013
Coming from a line of born to be great musicians is not something that everyone can live up to or even claim. Austin Brown is the nephew of one of the greatest pop musicians and icon to grace the world with his music; Michael Jackson has been named one of the great if not the greatest pop music icons to walk the earth because of a massive list in accomplishments, awards and global recognition he acclaimed. Austin Brown the son of Rebbie Jackson creates music that have not been overexposed in a while. One can say that he is picking up right where his uncle left off to make a strong mark in the music industry, but Brown is definitely a character and have his own unique persona. With a promotional free mixtape released in December of 2012 going into 2013 the talented musician delivers an innovated sound through his music.
Highway 85 features his single "City Of Angels" which is full with much soul and funk through the sound that his first full length music album express. Inspired by Stevie Wonder, A Tribe Called Quest, The Beatles, and Sly and The Family Stone the vocal performance by Austin Brown channels a combination from each of his influences.
Featured on Kenalsworld the author of the website mentions that following listening to Brown's mixtape that among his favorite songs from the promoted free album is one of the tunes entitled "All I Need" featuring rap musician/producer David Banner. The song stands apart from the other songs on the album because of the rhythm being the most up-tempo song from the music project. The passion and root that Austin Brown have that is shared through his music coming from the musical blood that he carries, but also from his desire since a child growing up watching his uncles and aunt Janet Jackson performing while perfecting their craft in music.
On Kenalsworld Kenal states "Soul, Class and Musical demonstration is what Austin Brown represents as well as deliver through his all of the music that he releases. The 27-year-old musician, singer, and songwriter currently located in Los Angeles, California over the past few years have really been getting a lot of ground work done . The influencing figures that have inspired the talented artist include music greats and legends Prince, George Michael and Michael Jackson. On his website the musician credits his father Nathaniel as the driving force behind his early musical education, and while Nathaniel admits to paying for piano lessons, he says music was always on Austin's mind. " Austin Brown have a humble spirit and multi-talented ability in playing the bass, piano, Guitar and more. Listen to "City of Angels" and download Highway 85 today.
Aside from Brown Kenalsworld have featured musicians the likes of Tinashe, Michele Chrisette, Marcus Canty, and Young Atlanta rapper Pryce for their creative talents in music. Visit Kenalsworld to view and listen to more of these musicians, art, and more.