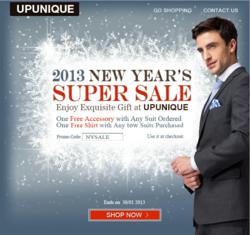 (PRWEB) January 01, 2013
Today, UPUNIQUE, a reliable supplier of custom suits, proudly introduced its promotion of custom men's suits, from Jan. 1 to Jan. 30, 2013.
In the promotion of UPUNIQUE New Year's Sale, every customer can get a gift when checking out by entering the coupon code of NYSALE (two suits for a free custom shirt, and one suit for free suit's accessories).
Leo Phang, CEO of UPUNIQUE, said, "With 2012's close and the coming of 2013, we launch this promotion to show appreciation to all our loyal customers, and hope they could show their unique styles in 2013. If customers cannot find their styles online, they just need to contact with us to make a custom-design."
Custom menswear has been popular these years for its unique individuality and exclusive feeling. UPUNIQUE is to help gentlemen to catch people's eyesights in few seconds with its customized shirts and suits.
With more than twenty years' experience in the industry, UPUNIQUE has received much approval from the market, and its custom menswear is no longer synonymous with luxury, but the grade and exclusive cultural connotation.
Leo Phang added, "At our custom suit online shop, customers can shop custom suits, shirts, blazers and pants within fifteen minutes, and receive the shipment within 14 working days. We have organized a strong team of product development to ensure the product's high-quality."
About UPUNIQUE
UPUNIQUE, located in the oriental fashion capital Shanghai, is a leading brand specialized in tailored suits on the European and American middle and high-end markets. UPUNIQUE aims to provide 100% fit commitment, 30-day unconditional refund and 80-dollar free dress alternation.
For more details, please visit: http://www.upunique.com