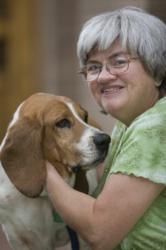 I was up against some awesome competition ... It's an honor just to have been nominated for these awards.
Sheridan, WY (PRWEB) January 03, 2013
P.L. Blair, author of the urban fantasy/suspense Portals series, has received awards in two categories in Paranormal Romance Guild's 2012 Reviewers Choice Awards.
Stormcaller, second ebook in Blair's series, took second place in PRG's Best Young Adult book category, and Portals came in second in the Guild's Best YA Series.
"I'm jazzed," Blair says. "I was up against some awesome competition, including authors better known than I am – it's an honor just to have been nominated for these awards!"
Winners were named on Dec. 31.
PRG is a non-profit organization formed online Oct. 31, 2009, by readers and writers of the paranormal romance genre to support the genre through the web site and special events. Reviewers Choice Award nominees are chosen from among the books that PRG reviewers receive – and choose to re view – during the year.
The organization's volunteer reviewers accept books in all genres for reading, and Gloria Lakritz, PRG's treasurer and senior reviewer, estimated the organization reviewed close to 1,000 books in 2012.
This is the second year for Blair to be honored by PRG. Shadow Path, her first ebook in her series, received a four-star review from PRG last year – then took third place in PRG's 2011 Reviewer's Choice Awards, Young Adult category.
Stormcaller, reviewed earlier this year, received five stars.
Set in the Corpus Christi, Texas, area where Blair lived and worked for several years, Portals brings elves, wizards, ancient gods and other creatures from mythology and folklore into our modern human world – where some of these beings use their magical abilities to commit crimes.
Blair's main characters – human police detective Kat Morales, her elf partner Tevis, and their allies – are called in to solve these crimes.
In Stormcaller, an ancient being worshiped by the Aztecs as a god, returns to the world of humans with a demand that his worship be restored, complete with human sacrifice, or he will destroy the Texas coast with a hurricane.
A native of Tyler, Texas – now living in Sheridan, Wyo. – Blair chose Corpus Christi as the primary setting for her books because she is a former resident of the area.
"I'm familiar with it," she says. "I lived there full-time, and wrote for The Rockport (Texas) Pilot, for several years before moving to Sheridan. Then I wintered down in the area from 2008 until this year, when I moved back to Sheridan full-time. It's a gorgeous place with lots of opportunities for the kinds of stories I want to tell."
Blair has degrees in journalism and wrote for newspapers for more than 30 years, but her goal was always to write books, she says. She began Shadow Path in 2006, while she was working full-time for The Sheridan (Wyo.) Press.
Deathtalker, the third ebook in her series, has recently been accepted by PRG for review in 2013, and Blair is at work on three more books. All are published by Studio See Publishing LLC, an independent publishing company based in Sheridan.