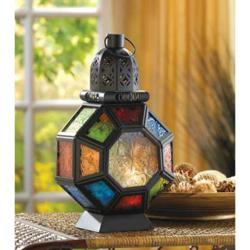 Even though our prices are dead cheap, the quality of our products is top notch!
(PRWEB) January 17, 2013
Blowing out the candles on a birthday cake is a tradition that goes back decades, but when their wicks light up within their own lanterns, they can provide a soothing ambiance to any occasion. The online wholesale store WholesaleMart would like to announce the launch of their brand new line of candle lanterns that are suitable for every occasion and event.
WholesaleMart is an online supplier and distributor of a wide range of wholesale products and gifts. The company's claim to fame lies in the large range of discount products they offer which include essentials such as umbrellas and liquor flasks to luxury items such as scented candles, fountains, garden décor etc. The company also specializes in providing corporate gifts and promotional products that can be ordered in bulk and shipped at a very low flat rate shipping charge.
The candle lanterns come in a wide range of designs, sizes and colors that can suit a number of occasions. Popular particularly for weddings, parties etc, the holders come complete with their own candles and can serve as an attractive homage to each event. Quaint mini lanterns, mini cut-work garden lanterns, small Victorian lanterns can fit into any dark nook or crevice, those with colored glass such as the Moroccan variety offer a psychedelic experience while luxury holders such as the white fancy lantern with stand and the amber glass variety are popular household choices.
For fans of the East, WholesaleMart offers a range of new lanterns that are reminiscent of the mystic lights of the area. Each of the lanterns can be ordered in bulk for parties, weddings or homes all at wholesale prices.
The company spokesperson John Vanser had this to say when asked about the WholesaleMart's rise to the top, "Our top priority has always been to ensure no customer leaves disappointed. WholesaleMart is the advocate of the budget conscious small business owner, gift shops and disappointed start-ups who are sick and tired of having to make large purchases in order to get a decent price. Even though our prices are dead cheap, the quality of our products is top notch!"
The online wholesaler also offers free shipping on most purchases over $250.00. For more information about the website and its products, please visit http://www.wholesalemart.com.
About WholesaleMart
Launched in 1998, WholesaleMart LLC took full advantage of the tech savvy era by relocating their business online. The store specializes in providing a large range of items and is especially popular with buyers whose budget is too meager to cover their needs completely. The B2B importer and wholesaler also caters to stores, fundraisers, corporate events with ranging from household items such as home decorations, bags, baskets, bath sets and blankets to novelty items such as collectibles, animal figurines, medieval products, and much more.
Phone: (866) 311-5796
Email: sales (at) wholesalemart (dot) com
Fax: 1-425-984-0214
Address:WholesaleMart LLC, 3923 139th Ave NE Ste A, Lake Stevens, WA 98258
Website: http://www.wholesalemart.com