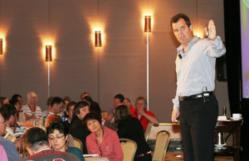 There are various ways to use creative real estate strategies and make your property easy to buy.
(PRWEB) January 02, 2013
Recent reports from Halifax show UK house prices have fallen more than £1,000 in October. Further figures from the report suggest that the property market is sliding back to a property slump recorded three years ago.
The continuous decrease in house prices in some parts of the UK will make more sellers struggle to sell their properties. Fortunately, property strategist, Rick Otton is coming back to the UK to conduct a 3-day conference where he will discuss innovative selling strategies that will surely benefit both sellers and buyers.
"It is now possible to sell properties in hours without discounting the price and compromising the financial status of the buyers. Through creative real estate strategies, anyone – even those with zero experience in transacting houses would be able to easily sell properties, earn reasonable profit, and help families purchase their own houses," Otton said.
Otton's 3-day conference in the UK, "Zero-Debt Property Cashflow Conference" is aimed at teaching people innovative strategies in buying and selling houses. Mr. Otton particularly intends to help transform thousands of lives by showing people an easier and more creative way to create real estate wealth.
Why You Could Sell in a Week without Lowering the Price
"Dropping the price doesn't bring in more buyers, because it doesn't make it any easier to buy," Otton said. Rather than dropping the price, Otton suggests making the property easier and more enticing to buy through creative property investment strategies.
One way to make a property easier to buy according to Otton's book, "How To Buy A House For A Dollar," is to tailor the transaction to solve specific problems of both buyer and seller.
"There are various ways to use creative real estate strategies and make your property easy to buy. And you can learn all the basics and the nuts and bolts of these strategies in the Zero-Debt Property Cashflow Conference," explained Otton.
Thousands of individuals have transformed their lives from ordinary individuals to real estate entrepreneurs earning at least a thousand pounds per week. "What you do is really only limited by your imagination and the problems you're trying to solve," said Rick Otton.
One of Otton's students is Susan Mendonca who had no idea it is possible to create real estate wealth despite continuous changes in property prices until she learned of Otton's innovative strategies.
"Three months ago, I didn't even know what installment contract was, and I never believed that I'll actually be at this stage now when we're going to have an exchange in two days and I can't wait to get my first £10,000 out of one deal!" Mendonca said.
Otton will not only discuss creative property investment strategies in his 3-day conference. He will also specifically show people how to use these strategies by solving their current real estate problems.
"I'm positive we're going to learn a lot from each other. And we're going to have lots of fun!" Otton said.
Grab your ticket to Rick Otton's Zero Debt Property Cashflow Conference 2013 here: http://www.rickotton.co.uk/live
About Rick Otton
Rick Otton has spent decades making money by snapping up inexpensive real estate and putting it to work building wealth. Now, he's teaching other Aussies how to do the same. Otton is the founder and CEO of We Buy Houses, which operates in the U.S., U.K., Australia and New Zealand putting his strategies to work every day. Otton got his start in alternative real estate investment in 1991 and within a year acquired 76 properties. In years after, Otton made a fortune using his low-risk, high-reward strategies to inexpensively acquire real estate. Now, Otton wants to share the wealth by sharing the wisdom, teaching Aussies how to buy and sell real estate without cutting banks and other middlemen in on the deal. Otton has been featured in a variety of television programs and magazines, including Today Tonight, A Current Affair, Australian Property Investor and more.
You can learn more about Otton and how to invest in residential real estate without using banks at http://www.rickotton.co.uk.