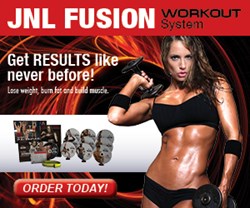 As the fitness industry makes their predictions for the best and most efficient training methods for 2013, many have stated that the hottest workout craze of 2012 is still going strong in the New Year. For more info please visit www.JNLFusion.com
Miami, FL (PRWEB) January 03, 2013
Predictions for the best fitness workouts of the New Year have all pointed to one of the most effective training method to date which is JNL Fusion. From fitness magazines, to home shopping channels, to bloggers, and even the users and lovers of the method itself have all made it apparent that the workout method created by fitness icon Jennifer Nicole Lee JNL Fusion is truly revolutionizing the entire fitness industry.
The JNL Fusion workout method has gained a global following through the viral YouTube's of the workout being posted by Jennifer Nicole Lee and her elite group of VIP Certified Master Trainers. From the YouTube's and the craze that it has started , now JNL's best workouts have been captured and now created into an official complete DVD box set now available at http://www.JNLFusion.com
The benefits of the JNL Fusion workout method are endless. To name a few, first of all it is highly time efficient. The workouts last no longer than 30 minutes on average, all containing the trademark characteristics of the method which are six circuits of a strength moves infused with a super spiking cardio blast which makes one's metabolism go on a and all-time fat burning high.
Many users of also enjoyed the fact knowing that they will not be prone to unnecessary hard-core, high impact, or mindless moves which all could result in spinal injury, or joint injuries which of being common in some of the more current methods of training.
Another key factor that makes the JNL Fusion workout method superior is that it is an exact blueprint of how to achieve the coveted sexy fitness model physique that is athletic and super fit. Many women shy away from training with weights because they have the fear of getting overly developed, larger muscles, which can make them look manly or heavier and not attractive. However, from Mrs. Lee's extensive experience in the bikini and fitness competition circuit, she is taken her top trade secrets on how to create an award-winning symmetrical physique that will have one feeling confident in a bikini while at the beach, or in a sexy little black dress, or in their favorite pair of skinny jeans. JNL Fusion's goal is not to make one skinny or to have overdeveloped, husky and thick muscle tone. The goal that Jennifer Nicole Lee set out to create with her own workout method is her own personal mission statement of "Strong is the New Skinny". JNL states "I want women, real people, and athletes of all levels of experience to truly understand that you're only as young as how strong you are. Many training methods waste your time, money, and energy on making you do movements that are dangerous or could be life threatening just for the sake of being pressured by your peers. The whole JNL Fusion lifestyle, brand, mentality, attitude and philosophy are that you are welcome at your own fitness level and it's my goal to make you as strong, healthy, and is happy with your results as possible."
Jennifer Nicole Lee's management team has confirmed that she will be hosting a record-breaking sellout to her third annual JNL World Conference at a private oceanfront resort on South Beach in Miami Florida this January 18 the 21st. This international power Summit will be hosting some of the world's most powerful, beautiful, prolific, and motivational fitness and wellness experts from all over the globe to be recertified and/or certified for the first time in her JNL Fusion workout method.
Recently her power team and JNL celebrated a huge accomplishment with the world's first JNL Fusion Gym license agreement being finalized for the Cayman Islands.
As you can see the JNL Fusion workout method, brand and lifestyle is growing at a rapid pace. In closing Jennifer Nicole Lee stated "I know what it feels like to be overweight, unhealthy with little to no energy. It wasn't until became a mom but I finally realized that motherhood was a sport and I didn't have a chance to clock out or take a day off. I realized I had to get healthy not only for myself before my family. It's with this passion that I've created this highly effective and efficient workout method for people who were extremely busy but need max results in minimum time. The weight loss success stories that we'd daily receive at our offices are what keep me fighting my own daily battle to be the best that I can be so I can help others achieve their fitness goals as well with my JNL Fusion workout method, exercise DVDs, seminars and personal training certification workshops."
For more information please visit http://www.JNLFusion.com
The official Facebook page is located at http://www.JNLFusionFB.com