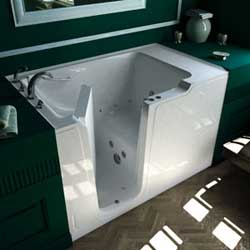 This New Year Sales Event will offer shoppers substantial savings on walk in bathtubs, ranging from 10% up to 35% off of normal retail pricing.
Denver, CO (PRWEB) January 02, 2013
Aging Safely, a leading provider of walk in bathtubs, has announced a New Years Sales Event on walk in tubs and bathroom safety products. This New Years Sales Event will offer shoppers substantial discounts on walk in tubs and elderly bathing products. According to Aging Safely, this sale will include a clearance promotion on safety grab bars, hydrotherapy, and senior bathtubs that are no longer in production.
In addition, the company states they will be offering savings from 10% up to 35% off of normal retail prices. These huge savings are extended to several 2013 walk in tub models, but also include transfer tubs, grab bars and other products that are designed to assist in bathroom safety like a roll in shower.
With the high costs of assisted living and the many challenges to mobility that senior citizens must face as they age, many elderly are looking at options for aging in place like walk in bathtubs and considering other important variables to stay in their homes longer. Contemplating decisions such as adding grab bars to high risk areas of the home and bathroom, versus considering assisted living or other care facilities which for many can potentially lead to a downward health spiral and depression.
This sales event is the perfect opportunity for the bargain hunters who do not want to sacrifice quality, yet want a great price on walk in bathtubs or a roll in shower. Aging Safely only offers the best senior bathtubs on the market, many of which are certified by third party organizations that do pressure seal certifications on several of the top walk in tub manufacturers.
The company will also be offering double referral fees paid for those that can help refer Aging Safely Walk In Bathtubs for this limited time event. This is the perfect opportunity for those that are caring for a loved one, or know someone who would benefit from these fall prevention products. Referral fees can also be applied as an additional discount on walk in tubs. Customers referring Aging Safely will have the option to apply referral fee as a system discount, which can be combined with other savings for the person referred.
Senior bathtubs are easy to find online, however shoppers must be cautious of inferior walk in tubs. Many of which do not have 3rd party certifications and can be prone to leak after a few years of usage. The gauging of the shell is one very important thing to think about, that many of the suppliers will not mention. Bathtubs with doors can be subject to stress from the weight of the occupant and the water filling the tub, therefore the thickness of the appliance is something to take into consideration. Aging Safely has specially trained consultants that will help guide customers to the proper bathroom safety products for their particular needs.
For customers that are concerned with the aesthetic qualities of walk in tubs, Aging Safely's agents will further be able to assist shoppers on selecting different styles, colors and shapes that will work in conjunction with their unique safety needs, body and bathroom size.
Contact Information:
Zachary Tye Wennstedt
info (at) agingsafelybaths (dot) com
1-888-779-BATH(2284)