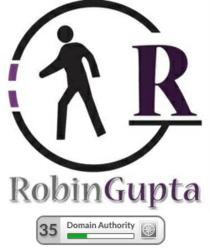 Fastest Bulk Domain Authority Checker Tools on the Internet!
Sri Ganganagar, Rajasthan (PRWEB) January 09, 2013
Robin Gupta has always thrived to help the community, and his latest contribution comes in form of one of the fastest bulk-domain authority checker tools available on the World Wide Web.
Robin always does something different on web, be it building one of the biggest directory networks on the Internet or offering innovative search engine marketing, and link building services.
Addressing the requirements of companies that deal with hundreds of websites every day, Robin has released one of the fastest bulk domain authority checker tools on the Internet.
Take a look at the bulk domain authority checker tool released by Robin here.
The new tool released by Robin allows professionals to check the Domain Authority value of hundreds of websites at a time.
Speaking about the utility of this tool, Robin commented – "Checking the Domain Authority is a matter of prime importance in the world of search engine optimization, because it reflects the overall authority of a website. Naturally, a tool like this one, which allows you to check DA of dozens of domains, is certainly quite resourceful for SEO professionals. Taking note of the urgent needs, and lack of availability of such a tool, we have released the new domain authority checker."
By releasing this new tool, Robin has once again made a valuable contribution to the SEO community.
Talking about the idea behind development of this tool, Robin further added – "I have always tried to come up with innovative SEO strategies to help our clients, and when I realized that all of them spent a lot of time on basic tasks like checking domain authority of countless websites every day, I decided to build a tool that could actually make their lives simpler. And, this one isn't certainly the last of my efforts for the SEO community. My team is also working on building an advanced back-link building system, which will help the webmasters in surviving the Penguin updates with great ease."
Anybody can make use of this tool without paying any subscription charges, and thousands of sites have already been tested by this bulk domain authority checker.
Apart from showing the Domain Authority, the tool also gives the Alexa rank, and Google PageRank of the corresponding sites.
Robin invites all the companies to take a look at the latest tool released by his company, and offer suggestions for further improvements.
About the Company
Robin Gupta is a web marketing professional based in India. His company specializes in search engine optimization, social media promotion, and web marketing.
Robin has provided cost-effective, cutting-edge SEO solutions to hundreds of businesses worldwide, over the past 6 years. Recently, Robin has launched what he calls one of the fastest bulk Domain Authority checker tools on the World Wide Web.
This tool has been mainly developed for various SEO agencies that deal with hundreds of websites regularly, and allows them to filter a big chunk of websites on basis of Domain Authority.
To know more about the latest bulk domain authority checker tool launched by Robin Gupta, log on to http://www.RobinGupta.co.