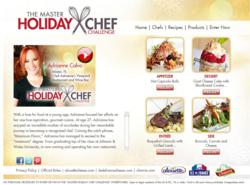 (PRWEB) January 07, 2013
Our very own Miami based Chef Adrianne Calvo beat out some of the top chefs from around the country with her "Maximum Flavor" style of recipes, that only those of us who make the drive to her restaurant, are privileged to taste.
The Master Holiday Chef Challenge is a national chef competition that features 14 of the best chefs from major cities across the U.S. including major metropolises like New York City, Chicago, and San Francisco. The chefs competed against each other to create innovative meals by using varieties of Alouette Cheese, Chavrie Fresh Goat Cheese, and Ile de France Cheese. The chefs had the chance to win the ultimate title of Master Holiday Chef & a grand prize of $20,000- but they needed your vote to win. It was ChefAdrianne's signature style, spontaneous creativity, and unrestricted approach to food that set her apart from her competitors - Adrianne being the youngest of the 14 competitors and 1 of 2 females. "I am so happy to bring home the win. What an honor to even be put in this category with these incredible chefs," says Calvo. In addition to finding some delicious recipes to try, there were other random drawings for daily and weekly prizes including a grand prize trip to the winning chef's restaurant.
This was one of Chef Adrianne's busiest holiday seasons ever because of her other charitable endeavors. On December 11th, she returned from her yearly effort to bring comfort and joy to all the families battling childhood Cancer at St. Jude Children's Research Hospitals in Memphis, Tennessee via cooking a holiday feast, moreover, trying to win a $4,000 donation to one of her favorite charities The Hunger Project via Verizon's 4G4 Hunger campaign, where she was also chosen as one of four top culinary guru's in Miami.
Restaurant: http://www.chefadriannes.com/?page_id=13
Facebook: http://www.facebook.com/chefadrianne
Twitter: http://twitter.com/#!/ChefAdrianne
For additional press information and interviews:
Nick Betancourt
Betancourt PR/Production
info(at)maximumflavor(dot)com 786-287-1725