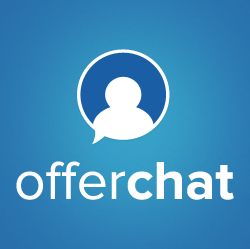 The new Offerchat website distinctly distinguishes the company from other online chat widget as being a tool focused on business...
Tallahassee, FL (PRWEB) January 02, 2013
Alongside the release of the all-new and improved live chat customer service tool for websites, Offerchat has also launched a new company website that better conveys the Offerchat brand message and identity to welcome the New Year 2013.
The new official website distinctly distinguishes the Offerchat live chat from other online chat widget as being the chat tool focused on business and customer support making it easier for enterprises, e-tailers, small businesses, consulting firms, agencies, professionals and companies with a web presence to choose the right customer service tool when visiting the site.
The company recognizes the key function of live chat in customer service this 2013 and expects more businesses to seek a professional live chat tool. Aside from a clean, clutter-free website with a uniform message, the Offerchat official website also released two very important pages, among others, that provide additional information and resource.
Visitors who consider using the Offerchat live chat customer service tool on their own websites will now cease to wonder why the chat tool has no charge.
Businesses who have the Offerchat live chat widget installed on their websites and need additional customer service manpower can now hire professional live chat agents at very affordable prices with support tailored to a client's live chat customer service needs. More information can be gleaned at the Offerchat Hire an Agent page.
About
Offerchat is a free premium live chat for websites specifically designed to help online businesses increase their conversions and sales. It's easy to add chat widget with full features that's 100% free. Offerchat is brewed to perfection at Click Labs, Inc. a company based in Cebu City, Philippines. The company specializes in driving search marketing and social media traffic, social web app development and conversion optimization. Each product or service specifically helps small/medium website owners increase online visibility and improve online sales.