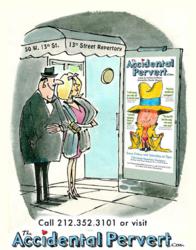 "Enough praise cannot be given." - BroadwayWorld.com
New York City, New York (PRWEB) January 15, 2013
The Accidental Pervert began life 4 years ago as a little-known show in downtown Manhattan. Its run at the 13th Street Repertory Theatre generated so much buzz and critical acclaim, that it became one of the sleeper hits of 2009. Now it is one of the hottest off-Broadway shows, and one of the hippest tickets in town on a Friday and Saturday night in NYC. Consistent sell-outs and positive reviews have brought such a spotlight on this unique play that it has been extended for an incredible eighth time, starting January 25th.
Accidental Pervert's writer and star Andrew Goffman is busy preparing for the upcoming shows. When we talked to him, he was incredibly excited about the opportunity to bring his show to new audiences in the new year: "I was so happy to get the extension. Although we've had some amazing success already, and many sell out nights, there are always people who haven't seen the show yet. But we are trying to pervert the world - one audience at a time!"
Make no mistake, The Accidental Pervert is a riotous comedy, but it's also a coming of age story that makes some pretty profound statements about sexuality and relationships in today's world. Goffman, getting ready to go on stage, shirtless and in boxer shorts, explains: "The main thing I want to do is to connect to the audience, and share something that I think is really important. Everyone has a story, this is mine but the themes are universal. I mean, everybody plays with themselves, right? I just get to do it on stage." Indeed.
See Andrew in The Accidental Pervert every Friday and Saturday night at the 13th Street Repertory Theatre, 50W 13th St (between 5th and 6th Aves). Tickets can be purchased online or by phoning 212-352-3101.
-----------------------------------------------------------------------
The Accidental Pervert is a laugh-filled show with a serious underlying theme. For three years, Andrew has been entertaining sold out crowds with the story of what happened after he found his Dad's stash of adult videotapes when he was eleven years old. He takes the audience on a comic journey through his porn-influenced eyes, to reveal how his exposure to pornography overshadowed his relationships with women for many years, until he finally became a loving husband and father.
The play is also running in Buenos Aires, with additional runs planned for Panama and other points north, south, east and west of New York City and wherever Perverts are found!
The show is directed by Charles Messina.