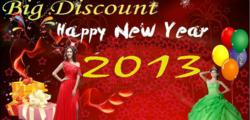 (PRWEB) January 02, 2013
Today, Dresses100.com, a leading online shop of Quinceanera dresses and other special-occasion dresses, proudly announces its new website.
Dresses100.com is a vogue site that provides the newest and prettiest dresses from a wide selection of designers and makers. Customers can discover a lot of dress descriptions, commentaries, purchasing tips, and so forth.
Morry Lee, CEO of Dresses100.com, said, "The new site is now able to assist young ladies to keep informed about the most popular designs, and helps people to choose cost-effective products prior to shopping."
Furthermore, Dresses100.com offers a great choice of dresses, like cheap prom dresses, wedding dresses, cocktail dresses, formal dresses, bridesmaid dresses, and so on.
In addition, the new website offers custom-made dresses to its clients. "If you cannot find your style in our catalog, or you need custom wedding dresses to show off your style, please don't hesitate to contact us. We will never let our customers be disappointed," added, Morry Lee.
Dresses100.com has organized a strong team of product development, consisting of designers, pattern makers, buyers and quality controllers. All of the dresses are 100% produced with high-quality materials, which can make the dresses special.
About Dresses100.com
Founded in 2005, Dresses100.com is a professional company for wedding dresses, Quinceanera dresses, evening gowns and other special-occasion dresses. Dresses100.com has received a lot of approval from the market through its good customer service, high quality dresses, and fast delivery services.
For more details, please visit http://www.Dresses100.com