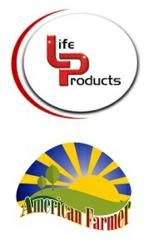 Norfolk, NE (PRWEB) January 03, 2013
Life Products announced today that they will be featured in an upcoming episode of American Farmer.
Life Products, founded in 1971 by Charles Watson is a world-leading supplier of probiotics for livestock and poultry, and is dedicated to helping improve animal health and reduce stress.
Life Products stands by their goal to help milk and livestock producers attain the highest level of production at the lowest possible cost. The Company's commitment is to develop, manufacture, and distribute quality crop additives, livestock supplements, and animal health products based on dairy and livestock producer needs.
Scott Watson, President of the company and son of founder Charles Watson said that "Life Products and our staff are very excited about this opportunity to communicate to the public the significance and importance of utilizing the latest in biotechnologies. Bacteria are essential to life and have been utilized throughout history to benefit mankind. Life products have taken bacteria technologies to the next level utilizing specifically selected bacteria for the superior preservation of feedstuffs. Feeding beneficial bacteria to livestock provides benefits of helping protect animals from pathogenic bacteria and aids in feed digestion allowing the animal to achieve superior levels of health and productivity. These technologies are not only important for profitability in livestock production but also in terms of animal welfare."
This particular episode of American Farmer will showcase Life Products and their recently developed DFM applicator delivery system, which enables user-friendly application with accurate delivery to the feeding system. In addition to a number of other features, the DFM will also include a calibration capability for inventory accountability as well as feed capacity.
"The American Farmer team is truly excited to feature Life Products on our show," said Charles Cowan, producer for American Farmer. " Life Products cares about animals, and is constantly working to develop new products that help to improve overall animal health."
About Life Products:
Life Products is a family owned and managed company located in Norfolk, Nebraska. The company was established in 1971 as the Vit-E-Men company producing a full line of feed, mineral and inoculant products for area producers. In 1994 the company created its global marketing division, "Life Products" which markets the brands of: Nutri-Lock, 10-G, 1-GP, BATTLE and others. After more than 40 years, Life Products continues to represent the latest and finest bacteria technologies with the rest of its product lines. Our company stands upon its reputation for the highest level of integrity in the business.
For more information, visit http://www.lifeproductsinc.com or call 1-800-658-3120.
About American Farmer:
American Farmer is a breakthrough program on a mission to showcase the latest advancements in agriculture and farming. From seed to harvest, livestock and more, our producers have traveled the country covering the people, places and issues impacting all areas of farm country.
For more information visit: http://www.dmgproductions.org or call (866) 496-4065.
Media Contact:
Charlie Cowan, Producer
(866) 496-4065 x 875