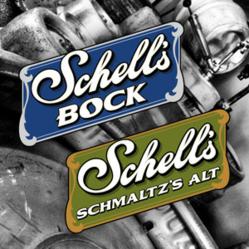 New Ulm, MN (PRWEB) January 08, 2013
The August Schell Brewing Company, the second-oldest family-owned brewery in the country, brewer of Schell's and Grain Belt beer, releases its latest seasonal Bock to the public along with its limited release Schmaltz's Alt. Adding to the excitement of the release of Bock is the upcoming annual Bock Fest celebration held on the brewery grounds.
So which was it, the beer or the goat? The classic story of Bock beer is told over numerous glasses every year, and this year will be no different. Last week Schell's Bock hit the shelves. This dark, amber lager contains a harmonious blend of 10 different types of malts and noble hops. The beer is lagered for an extended period of time to ensure a smooth finish.
Schell's also released their limited brew Schmaltz's Alt to stores. Schmaltz's Alt is the only beer in the Schell's portfolio named after a previous president. Warren "Schmaltz" Marti was the fourth generation president of the August Schell Brewing Company. One of Warren's favorite pastimes back in the 30's was a trip to the city dump to shoot rats- so much that it was the first date with his wife-to-be Casey. The manager of the city dump was John Schmaltz- and soon Warren was referred to as Schmaltz. This beloved Doppel Alt beer imparts a rich, sweet, malty flavor with hints of licorice, balanced by a chocolaty bitterness.
Finally, the much-anticipated Schell's Bock Fest will once again take place on the brewery grounds February 9th. The annual outdoor event draws over 6,500 people to New Ulm, where festers dawn various degrees of attire and take to the brewery in the quest to find the seven Bocks of Winter. Festers armed with clues from the Festmeister head out into the State Park around the brewery in search for the goat cutouts hidden amongst the trees. For those that choose to remain at the brewery, live music, food, and Bock beer will be plentiful, quenching the thirst of festers from all walks of life.
About August Schell Brewing Company:
August Schell Brewing Company is located in New Ulm, MN, sitting atop the same site it was built on in 1860. With its sprawling grounds, beautiful gardens, Schell Mansion, and even a deer park, the brewery is a tourist destination for any beer lover. Schell's boasts a proud heritage of continuous family ownership and finely crafted beers. Brewery tours and tastings are offered at the brewery on Friday, Saturday, and Sundays. For more information on Schell's Brewery or any of their 17 quality beers, go to http://www.schellsbrewery.com.