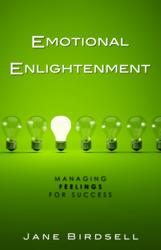 He who knows others is wise.
He who knows himself is enlightened.

Lao Tzu, 6th Century BCE
Calgary, Alberta (PRWEB) January 08, 2013
Becoming an expert on emotions facilitates self-knowledge and empathy for others, two essentials for personal and professional success. Jane Birdsell, a psychologist, who conducted a private counselling practice and taught personal development seminars for 25 years, recognizes the need for people to have more information on the nature of feelings in order to live a happier, healthier and more fulfilling life.
Inspired by working with her many clients and students, Jane has written Emotional Enlightenment: Managing Feelings for Success to help a larger public develop a more comprehensive understanding of emotions. As she came to realize in her work, many people do not understand emotions very well. She began to wonder how people could be expected to be emotionally intelligent when they are without awareness of the basics of feelings. She sought to dissect feelings in a way that reveals what they really are, how they develop, what causes them and how to manage them when they are negative. If people could understand emotions in the way cognitive therapists do, they would feel more in control and more confidant.
Many of the world's cultures, Jane believes, have encouraged the suppression of feelings. She fears that much of today's focus on technology further removes people from being in touch with feelings. Convinced that the suppression of emotion and the avoidance of feelings lead to many serious problems in life, she is passionate about improving awareness of emotions.
Jane also learned that people yearn to be understood by the important people in their life. In order to understand others, one needs to learn to listen to the thoughts and feelings of others and not judge them. This is what empathy is all about. Empathic adults are more popular and provide better leadership than those who are not. And empathic children are more popular with their peers in school.
Emotional Enlightenment includes exercises to help readers learn more about how to understand themselves and others. It is a practical resource inviting readers to see by examples how emotions can be managed for success.
Jane is inspired by the wisdom of Lao Tzu, the Chinese Philosopher who in the 6th Century BCE said:
He who knows others is wise.
He who knows himself is enlightened.
Ann Laverty, PhD, RPsych., Associate Director of Counselling at The University of Calgary's Student's Union Wellness Centre, has endorsed Jane's book with the following comments:
I have recommended this book to several clients who appreciated the transparency of practical suggestions and exercises included and the encouraging voice in which the book is written. I believe this text is particularly helpful for post-secondary students who are learning about the importance of emotions as well as benefits of knowing how to express and manage responses.
The book is available at Amazon and Barnes & Noble in the United States and at Owl's Nest Books and other quality bookstores in Canada.
It is also available on Kindle.
About Author Jane Birdsell
Jane Birdsell has been a Nursing Instructor, a Public Health Nurse and a mother of two children. After her children started school, she obtained a Master's Degree in Counselling Psychology from The University of Calgary. For 25 years, she worked as a psychologist conducting her own private counselling practice and teaching Personal Development Seminars. At The University of Calgary, Division of Continuing Education, she taught a course for 18 years called Understanding Self-Esteem: A Discussion and Information Course for Women. She also taught Enhancing Personal and Professional Effectiveness (for men and women) for14 years. Jane launched her book at Owl's Nest Books in Calgary on June 19th, 2012. She is enjoying the success of her book, which has been on The Calgary Herald best seller list almost consistently since its launch in June.