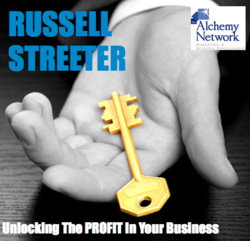 Russell has changed my approach to business. He helped us implement strategies to improve the profitability and cash flow of our operations. I would highly recommend Russell's services.
Trevor Millar, SailCoach
Fareham, Hampshire (PRWEB UK) 7 January 2013
A Fareham-based Chartered Accountant has joined the world's fastest growing business consultancy, The Alchemy Network.
Russell Streeter is excited about being associated with a rapidly growing, world-class network of business growth specialists that is changing the way tens of thousands of people do business every day.
With a background in finance and professional services, Russell has helped large organisations improve financial controls and small businesses to manage cash flow.
Using The Alchemy Network's proven and innovative blend of business growth and enhancement tools, Russell will be helping small and medium-sized businesses to generate more customers, find new markets and gain higher profits.
Alchemy Consultants have experienced remarkable success in helping business owners across all industries improve sales, bolster profits, protect against recession and to stimulate innovation.
Unlike other advisors or consultants, Russell works alongside business owners over an extended period, unlocking the profit potential in the business and receiving the majority of fees based upon the results achieved.
Persons interested in finding out more about Russell can join his mailing list, and will receive a FREE copy of the Special Report "16 Golden Rules To Immediately And Massively Grow Your Business".
Russell helps business owners achieve growth and success using a combination of various services:
Targeted Sales Campaigns – with no upfront fees and seven different types of campaign to choose from.
Business Growth Systems – NOVA is a comprehensive, step-by-step programme that guides businesses through everything from niche marketing, to improving the bottom line.
Business Systemisation – to ensure that the business operates effectively every day, without the need for constant supervision.
Copywriting – Make sales letters, print ads or web pages stand out and demand attention from the relevant target market.
Workshops and Seminars – learning and development opportunities for staff, business owners or critical partners.
Franchising and Exit Strategies - plan, prepare and sell for an optimum price.
Business Owner Mentoring – a chance for business owners to get a fresh perspective, new ideas or simply to talk. One-on-one sessions provide excellent opportunities for frank and open discussion. Groups allow business owners to discuss, network and collaborate.
Russell can be contacted on 01489 884 169 or at russell(at)russellstreeter(dot)com.